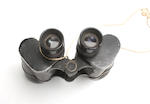 A group of binoculars
Comprising: a cased pair of 'Dienstglas 7 x 50, 50502 blc +', a pair of Carl Zeiss Jena, 'Df 8x', and two other examples, (4).

Saleroom notices
Please note the description should read A cased pair of Dienstglas 7 x 50 binoculars Engraved 50502 blc +,contained in black leather case, together with a black lacquered and leather bound three draw telescope engraved to the barrel Gray & Co 30 Union Street Inverness, No. 1109, contained in its leather case.