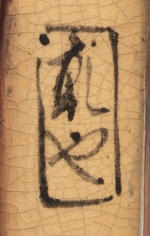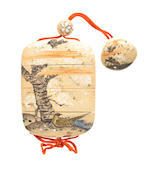 A complete set of twelve ceramic three-case inro
By Ogata Kenya II (1853-1923), late 19th century
Of flattened oval or waisted form, each bearing a crackled cream glaze and painted in coloured enamels with flowers or plants representing the months of the year, each signed Kenya; each with a globular ojime and a clam-shaped netsuke, painted with the same plants decorating the corresponding inro, three signed Tenrokudo; in a fitted four-tiered box. Each inro approximately 9cm (3½in) high. (12).
Footnotes