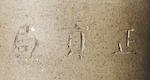 A group of five 'gongju' teapots and covers
Qing dynasty
Three with finely polished surfaces, potted with cylindrical, pear-shaped and compressed forms, one with silver-mounted rims, knop and spout and a dragon seal on the base, the others with seal inside the cover and a gongju mark on the base, together with two other unpolished teapots, one with a dragon mark and another with a gongju, tribute mark.
The largest: 19.4cm long. (5).
Footnotes