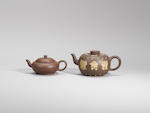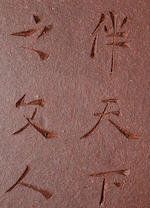 Two Yixing stoneware teapots and covers
Qing dynasty
Sturdily potted in the form of a drum, applied with a swan-neck spout and simple loop handle, the flat cover with a cylindrical knop with openwork decoration, the body and cover appliqué-decorated with anbaxian symbols and stylised shou symbol medallions and lotus flowers, all between a band of studs below the rim and above the foot, the base impressed with two seal marks, together with a flattened circular teapot with incised inscriptions on the base.
largest: 20.7cm long. (2).
Footnotes