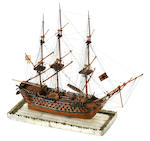 A Napoleonic prisoner-of-war boxwood model of a 112 gun first rate ship of the line
French/English, circa 1800
the hull is built up from wood and then planked in boxwood held in place with brass pins, with inlaid bands of mahogany above the waterline and between the gun decks. At the bow is a carved bone and polychromed figurehead of a warrior. The transom and quarter galleries are carved and pierced, and decorated with geometric motifs painted in black along with the taff rail. The decks are fitted with a number of details that include: anchors, capstan, belfry, long boat hung above the open waist, pin and fife rails, deck grating, and other details. Rigged with three masts and a bowsprit, standing and running rigging, ratlines, turning blocks, bracing lines, halyards stays, spars, and other details. Displayed on a period horn and bone base within a modern mahogany and glass case.
15-1/2 x 7-1/4 x 13 in. (39.3 x 18.4 x 33 cm.) length x depth x height.
Saleroom notices
Please note this lot is subject to Cites regulations.