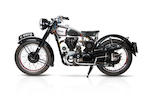 1947 Norton ES2
Here's a strikingly beautiful example of an early postwar British single, resplendent in chromed and polished-aluminum accents, with painting and pinstriping accurately followed using archival photos and other published resources as a guide. 1947 was the first year that Norton's famous "Roadholder" forks were added to the so-called "Garden Gate" frame, which already employed plunger rear suspension. A notable period accessory is the oversize Lucas headlamp, useful for high-speed roadwork at night.

This is a complete ground-up restoration, including extensive rebuilds of the engine and transmission. The Smiths Chronometric speedometer was also expertly overhauled, and all nuts and bolts were nickel or chrome plated as required. Brand-new English wiring accurate to the factory schematic diagram was fitted. NOS Firestone tires (made in England, with Sept. 1956 stamped on the sidewall) are extremely rare and unusual in the fact that they are still soft and supple, without weather-checking. The ES2 has seen a total of 52 miles since its total restoration, and has been stored under cover in a heated building ever since.

Among the bike's concours honors are numerous local and regional trophies, plus Best Norton Single at the 1996 International Norton Owners Association rally, Best Pre-1950 Streetbike at the 1997 Steamboat Springs AHRMA event and Best Pre-1950 Streetbike at the 2004 Motorcycle Classics Magazine show.
Saleroom notices
Please note that the title for this motorcycle is in transit