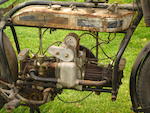 c.1923 Douglas S2 6hp 750cc Twin
Engine no. CE249
The Bristol, England, factory of Douglas Motors began making motorcycles in 1907 with one model, a boxer-twin, mounted fore and aft in the frame. Save for changing the engine's position, it stayed faithful to the basic design until the factory's doors closed in 1957 and, by rights, should have surpassed BMW's boxer career.

Their original design provided a low centre of gravity and easy starting allied to sweet running, both owing to the engine's relatively 'soft' power characteristics. Success in competition was immediate, both in reliability 'trials' and in races , where a brilliant win in the 1912 'Junior' Isle of Man T.T. races, convinced many of the make's excellence. Production soared up to the 1914-18 War, when Douglas had contracts for 70,000 Services motorcycles and also engines for industrial use by the government.

Post-war, motorcyclists faced new ranges from makers with designs developed during the war. Douglas-lovers were plentiful as the firm entered its most profitable period, but many wanted more power. Douglas were well-aware of this and quickly introduced overhead-valve versions of its 'flat-twins' and more sophisticated transmissions.

Even more spectacular, and almost unknown today, was its astonishing 'S.2' model with an overhead-valve, aircraft-based, engine of twice the size in a lightweight chassis. Listed for 1923 only, the S.2 had the pioneering Research Association 'wedge' disc brake, developed by Douglas engineer Les Bailey .

The sad thing is that few bought this, ultra-expensive, model, and only one other may exist. The Douglas offered here is seemingly achingly rare, in un-corroded, original condition, though the exact specification needs research and mechanical condition is unknown. The finish is described as 'grey patina'.

Hopefully a new owner may prioritize a return to riding condition since powering away and riding this big Douglas at full-chat might be worth any effort.
Saleroom notices
It is reported by the vendor that this motorcycle is in good running order Please note that this motorcycle is titled under its engine number.