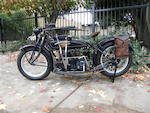 1922 Henderson Deluxe Long Tank
Engine no. D2017A
When Detroit's Henderson brothers founded their firm in 1911, the goal was a luxurious, reliable machine. With its long 65-inch wheelbase, the bike certainly gave a stately ride, which early customer Carl Stearns Clancy soon put to good use as he became the first motorcycle rider to circumnavigate the globe on two wheels. His Henderson covered 18,000 miles in 10 months of hard riding.

That was just the start of record setting for Henderson, which soon had the advertising tagline "Foremost among Fours." In 1917 Alan Bedell broke the famous Cannonball Baker's transcontinental record, gunning his Henderson from Los Angeles to New York in seven days, 16 hours. Also in 1917, Roy Artley set a Three Flags Classic record aboard his Henderson, riding from the Canadian border to Tijuana, Mexico in three days, 25 minutes. All of this long-distance glory snagged the attention of Ignaz Schwinn, looking to add a top-shelf four-cylinder model to his growing line of Excelsior V-twin motorcycles. A deal was done and starting in 1918 Hendersons would roll from Schwinn's fancy new factory in Chicago.

In 1922 the improved Henderson Deluxe was introduced, benefitting from a redesigned crankshaft, cooler-running cylinder head, an improved intake system, more powerful rear brakes, and a better exhaust. Touted as a true 100 MPH machine, Henderson's main rival. Harley-Davidson quickly challenged them to a match race of 12 heats, 11 of which Harley promptly lost. Not only was the new model fast, but reliable as well, setting a 24-hour endurance record at the Tacoma Speedway that stood until 1937.

This particular '22 Deluxe Long Tank model is a well-know participant on the vintage rally circuit. Resplendent in dark blue with gold accents, it was restored circa 2005 to be highly road-worthy and so has non-clincher rims and is fitted with an alternator. All else is period-correct and, in fact, the H&F Mesinger seat and leather saddlebags are original to 1922. The vendor represents the bike as well-sorted, in excellent running condition, and ready for road or show.
Saleroom notices
The title for this lot is in transit.