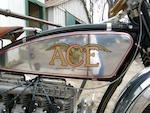 The former property of Mr. E. Paul du Pont
1928 Ace Four "Hemi head" Prototype Sport Solo
Engine no. DA783
William Henderson was one of the greatest, possibly the greatest, motorcycle engineer in America's early era of motorcycle innovation. He was the country's supreme enthusiast for the in-line 'Four', and his contribution to the genre exceeded the best made by any comparable European makers during what became the 'Age of the Fours'. Subsequent significant designs came from Honda in the 1960s.

Henderson was successful but low on capital, so the company interests were bought by Ignaz Schwinn , William Henderson later leaving Excelsior to found the ACE Motor Corporation in 1919, re-engineering his original design following recent advances in engine technology. To boost sales, Ace embarked on a series of record-breaking exploits, with the company claiming an astonishing speed at129 mph in 1923. The 'Ace' became every collector's dream.

Following Henderson's early death, the Ace company was later sold, the last 'factory'Ace made in 1929, though not before this machine, 'X-1 28', was likely made for owner Paul Du Pont as a prototype. Unusually, much of this machine was constructed of the light-gauge aluminum then new for aircraft use and surviving components, including the tank (replicated for safety reasons), fenders, 'bars, rims, and other parts, some of which are stamped with this number.

The unique machine, purchased directly by an earlier collector from the Du Pont estate, has now been re-united, expensively, with its presumed unique and original engine, both fitting together exactly as when new with no adjustment needed. The 100ci unit represents the largest-capacity Ace made, with Ricardo 'hemi'cylinders teamed with high-lift cams and large valves. Marque experts have authenticated the rebuild to the original specification - no lights were ever fitted - and this fabulously restored, startlingly 'modern' machine, in its original Duesenberg Blue, is the result. Unique.
Footnotes
Saleroom notices
Although the vendor believes that the frame and engine were originally one unit, during the course of our research, we have been unable to substantiate this claim and therefore recommend that you bid accordingly. Parts, including - but not limited to - the aluminum fenders and rims, were newly manufactured, as the originals were deemed unsalvageable.