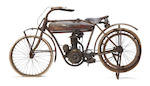 One of the earliest known examples extant
c.1911 Pope Model H 4hp
Engine no. 66
Colonel Albert Pope made his start in manufacturing just after the American Civil War. After a period as a general manufacturer, the firm made an entry into bicycle making at the start of the great boom in cycling. An extremely astute judge of the worth of an acquisition, by the turn of the century he was head of the huge conglomerate which was the American Bicycle Company. Using his resources, he moved, in the 1890s, into the then promising electric car field with the Columbia, the subsequent twentieth-century two- and four-wheelers being 'prefixed' by Pope as in Pope-Hartford, Pope-Tribune and so on.

In the motorcycle field, he used, at first, a variety of marketing names for what were essentially the same motorcycle ranges with American, Columbia, Crescent and so on up to Tribune all being successful. Not before 1911 did the first Pope-badged motorcycle materialize, the Model-H as offered here.

Already exhibiting the developing 'American' styling of the period with the leaf-sprung forks, back-swept 'bars and cylindrical tank between the frame-tubes, the well-engineered Pope was powered by an inlet-over-exhaust , single-cylinder, F-head motor of 4hp, a then unusual layout, its soundness proved in its later use by so many prominent makers including Rolls-Royce. Transmission was by direct belt, all braking in the rear hub. Production only ran from 1911 to 1916, manufacture of the Pope range ceasing altogether in 1918.

The Model H on offer, with a very early engine number of 66, is in that, so-desired, state of having the original mechanics combined with the remains of the maker's finish and a great patina. The decision to restore or preserve will be for the new owner.
Footnotes