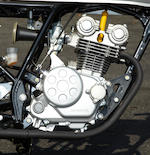 1962 Honda CR110 Replica
Here's a spectacular little bike, introduced in 2004 as an homage to the 1962 CR110, Honda's first 50cc Grand Prix racer. Like the original machine the double-overhead cam 50R was built to rev, its 7hp maximum output coming at 13,500 rpm, with redline set a further 1000 revs up the scale. Having six speeds to play with, weighing just 157 pounds dry, and equipped with a modern disc brake up front, the Dream was a natural in minibike road racing. HRC, Honda's race arm, even supplied kit parts for those wanting to escalate performance.

From the late Allan Aaron's collection of race bikes, this Dream appears to have seen only light use and is presented in largely as-new condition.
Saleroom notices
This machine is a c.1997 Honda Dream 50R. Please note that the frame and engine numbers for this motorcycle are AR021000491 and AR02E-100477 respectively.