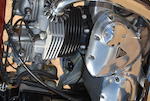 1976 Triumph TR7RV Tiger 750
Frame no. TR7RV EN71658
Engine no. TR7RV EN71658
In addition to increased engine size and a 5-speed gearbox, the other big change for Triumph twins in the 1970s was a new oil-bearing frame that did away with the separate oil tank. Up front we see the move to sportier-looking "Ceriani-style" forks, plus there's a Lockheed hydraulic disc brake with 10-inch cast-iron rotor, matched by a similar setup out back. U.S. safety legislation forced another change: 1976 was the first year for mandated left-side shifting, which required a cross-over shaft and redesigned primary cover.

Essentially identical to the Bonneville, the Tiger 750 ran one carburetor instead of the Bonnie's two, make for a little less fussy operation and better fuel mileage. The bike on offer here is a low-mileage, matching-numbers machine that has benefitted from a complete rebuild and restoration. The useful addition of a modern electronic ignition system is the bike's one desirable deviation from originality.