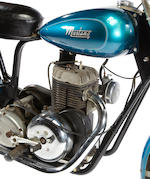 1965 Mustang Throughbred
Frame no. 923412
Engine no. 12638
To call the Mustang a scooter really isn't fair; it's more of a hybrid, a mini-motorcycle. When engineer John Gladden was looking to keep his aviation parts factory busy in the quiet days after WWII, he hit upon the idea of a lightweight, economical two-wheeler. A 320cc sidevalve industrial engine of his own design was repurposed as the powerplant, hooked up to a British Burman 3-speed foot-shift gearbox. Leading the way was a telescopic fork, a first for an American-made motorcycle. Never intended as a race bike, Mustangs nonetheless gave good accounts of themselves in competition, with one even topping 100 mph in a dry lake bed speed run. Future AMA Hall of Fame racers Walt Fulton, Jimmy Phillips and Ed Kretz Jr. all helped spread the word about Mustang. Some 20,000 units rolled out of the Glendale, California, factory before production ended in 1963.

This Mustang from Rickenbacker's is a top-of-the-line Thoroughbred model, introduced in 1960, with dual shocks and swingarm rear suspension. It also runs full lighting.