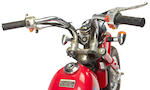 2002 Madami Dirt Dobber
Frame no. LF3YCB0C72D000512
Norman Hobday's tastes in collecting were nothing if not eclectic, so alongside legitimate blue-chip classics we have something like this Dirt Dobber minibike. Made overseas by Madami, it's an inexpensive copy of the venerable Honda Mini Trail 50, the little bike that taught so many Americans how to ride from its introduction in 1969. The Mini would go on to become one of Honda's best sellers, with in excess of a half-million units sold. That kind of success led to many clones of the Mini Trail being made, including this one by Madami. The suspicion is that Hobday liked this practically new Dirt Dobber in part as a bookend to his collection, it being exactly 100 years older than the bar's earliest motorcycle, the 1902 Peugeot.
Footnotes