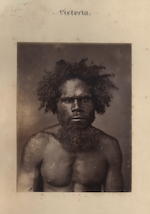 An album comprising 184 albumen paper photographs, circa 1880
various photographers including John William Lindt the main body of photographs depicts a number of subjects and locations in Australia and New Zealand, incorporating images of ships at both the beginning and end of the album, as well as a section showing the Suez Canal and environs, consistent with the contemporary passenger shipping routes. Printed and compiled circa late 1880s, captioned in ink in a consistent hand throughout with some annotations and a note concerning provenance in pencil in another hand, affixed to the inside front endpaper before 9/4/40. Formerly belonging to Worthington, & bought at the dispersal of his famous North Country(illegible) collection. (illegible signature)"

The photographs;
1. Ship (outward journey), 2 x images, captioned "S.S. Somersetshire" and "The Maindeck". The latter a photgraph of a painting or drawing.

2. Melbourne, 29 x images including views of various city and government buildings, city streets and gardens.

3. Labelled "Ballaraat" (sic) Ballarat, 9 x images, including one panorama composed of two panels.

4. Aborigines from Grafton region, 9 x images. Eight of the nine images in ths group were photographsed by J.W Lindt, the sixth image may be an unrecorded part of this oeuvre of 32 images, or may be by another photographer working in a similar style. Lindt is known to have photographed the Aboriginal tableaux in the Grafton area of NSW, circa 1875. Lindt subsequently moved to Victoria where the photographs would have been purchased and erroneously titled "Victoria".

5. Tasmania, 20 x images, including views of Hobart town and harbour and of Mount Wellington.

6. New Zealand, 18 x images,including Maori whare, Invercargill, Dunedin

7. Maoris, 16 x images, printed in carte-de-visite size and subsequently trimmed to oval format.

8. Christchurch, 4 x images, showing Colombo St, Railway Station and Normal School.

9. Wellington, 2 x images showing a view of the city and harbour and Government Offices.

10. North Island, NZ, 3 x images including Tauranga, Napier and Ohinemutu.

11.Rotomahana, NZ, 3 x images, including views of the Terraces created by geothermal activity.

12. Auckland, 7 x images

13. Sydney 8 x images including views outside Sydney Head, the Harbour, Town Hall.

14. Blue Mountains, NSW 7 x images

15. Mount Gambier, SA, 6 x images

16. Adelaide 6 x images

17.Suez Canal and area 26 x images

18. (return journey) 1 x image.






Footnotes