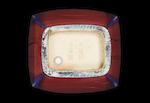 Two rare flambé-glazed 'fanghu' vases
Tongzhi and Guangxu six-character marks and of the periods
Each of quatrelobed pear-shaped form rising from a pronounced foot, the wide body with a raised peach-shaped panel, the neck flanked by a pair of tubular handles, both enveloped in a fiery flambé glaze of maroon, purplish and grayish tone, each incised with six-character mark on the unglazed base. Each 31cm high. (2).
Footnotes