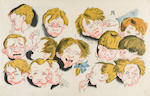 KONASHEVICH, VLADIMIR MIKHAILOVICH 1888-1963.
Rozhi. [Mugs.] Moscow and St. Petersburg: Raduga, 1925.
4to. Color lithographs. Original color lithographed wrappers. Minimal ink smear on back wrapper.

FIRST AND ONLY EDITION of this brilliant tour de force of children making all sorts of faces. Next to V. V. Lebedev, Konashevich was the most important Russian picture book artist of their generation. But unlike Lebedev who championed Cubism and Constructivism, Konashevich belonged to the Mir Iskusstva [World of Art] tradition in which the line was the basis of all art. He never produced another more charming and amusing children's book than Rozhi.