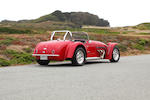 c. 1954 Kurtis-Kraft 500S Continuation
Chassis no. KK500S-038-K
* Supercharged Ford SVO 351cid V8
* Tremec 5-speed manual transmission
* One of the final Arlen Kurtis continuation cars
* Kurtis COA included
* Past show winner

Among racers of the 1950s, Frank Kurtis was a star of a different order, the builder of the best, most handsome, most reliable, sanitary and – best of all – fastest Big Cars of the Triple A era.

The statistics of Frank Kurtis's race cars at the Indianapolis 500 are breathtaking. His cars won every race but one in the six years from 1950 to 1955. They led 7/8ths of the laps at Indy in 1950-53.

Frank Kurtis's influence went far beyond championship cars, however. In the years after World War II Kurtis was far and away the dominant factor in midget race cars, turning his attention to sports cars in the late 1940s. The Kurtis Sports Car, utilizing many readily available Ford components and with a variety of possible engines, was appealing but expensive; itproved difficult to sell. Kurtis eventually sold the entire project to Earl "Madman" Muntz who turned it into the four-seat Muntz Jet.

Kurtis nevertheless remained interested in the sports car concept and was increasingly attracted to road racing. The Kurtis Sports Car was attractive but it was a boulevard cruiser, not competitive. Now Kurtis determined to build something very different, and much better.

It was the KK500S, directly derived from Kurtis's KK500 Champ car chassis with torsion bar suspension, live axles and a wide, x-braced perimeter frame. Characterized as an Indy car with fenders, it accepted a wide range of powerful overhead valve American V-8s. Its live axle suspension was robust and predictable on the day's smooth American paved courses. Clothed with a simple body, its cycle fenders emphasized its Champ car origins, and the nine-bar grille emulated the Champ car design as well.

Embodying American concepts, the Kurtis KK500S won many SCCA races in the hands of American heroes with names like Bill Stroppe, Chuck Daigh, and Briggs Cunningham.

Dashing, exhilarating and quick, only a handful of complete KK500S cars were built by Frank Kurtis in period. Like Carroll Shelby's later Cobras, demand soon exceeded the available supply.

Frank Kurtis had over the years passed his aptitudes and skills on to his son, Arlen, who began in the early 1990's to restore old Kurtis race cars. Collectors soon caught on and a series of continuation KK500S cars thus emerged from Arlen Kurtis's Bakersfield shop.

That is the source of this meticulous 1996 continuation Kurtis KK500S.

It is a true continuation, with channel section perimeter frame, torsion bar sprung live axles and tube shocks, and a body that accurately reproduces the elemental KK500S. The chromed full width braced rollbar and stainless steel long tube headers with side exit exhausts contribute to its visual presence.

Power comes from a Powerdyne 9-inch boost supercharged Ford SVO 351 engine with Edelbrock Performer intake and 750cfm Holley carburetor. Derived from the Ford GT engine, it delivers 500bhp. The transmission is a Tremec 5-speed driving through an aluminum driveshaft to a 9-inch Ford rear axle with 4.1 gears and Detroit Locker rear axle. Four 16" Halibrand pin drive alloy centerlock wheels deliver the power to the ground. A 15 gallon aircraft fuel cell with quick fill cap and a pair of Mallory fuel pumps supplies the go-juice.

Safety equipment includes a 3-station Halon fire suppression system and four-point belts for both driver and passenger.

Finished in bright red with black undercarriage, black interior and cockpit borders, this is a breathtaking example of the creativity, imagination and skill of Frank Kurtis and his son Arlen. It is offered from the family of its original owner who specified its configuration and monitored its construction.

Endowed with quick, responsive handling, blessed with nearly limitless power from its responsive supercharged Ford engine, this is an automobile Briggs Cunningham, Bill Stroppe and Chuck Daigh only dreamed of.