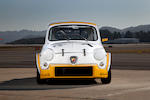 1967 Fiat Abarth TC Berlina Corsa
Chassis no. 1667
* 1,050cc Abarth four-cylinder engine
* Approximately 110hp at 8,000rpm
* 5-speed close-ratio Abarth gearbox
* Period-correct Abarth performance parts

* Giant killer reputation
* Vintage raced with great success
* A true crowd pleaser on-track

The Abarth reputation as a 'giant killer' was cemented on the racetracks, rallies and hill climbs of Europe and America, as funny-looking but potent little Fiat sedans stormed to class wins and group championships in event after event. Based on the Fiat 600D introduced in 1960, the 850TC, for 'Turismo Competizione', boasted an 847cc Abarth tuned engine with 52hp capable of a 92mph top speed. Disc brakes were fitted as part of the enhanced suspension package. From the TC came the 850TC Nürburgring Corsa with an additional 16hp and the large front-mounted radiator. This, combined with the propped-open rear engine lid gave this series of cars their very distinctive look. That raised engine cover, first done in the name of more efficient engine cooling, also had the not inconsequential benefit of acting as a very useful rear wing, generating considerable downforce to help plant the rear, drive wheels, of the car.

Next up was a further development of the block to 982cc, which gave birth to the Fiat-Abarth 1000TC. Running against the heretofore dominant Mini Coopers in the D Sedan class, they proved a formidable adversary. In fact, they ended up being banned from SCCA competition, such was their record!

The 1967 Fiat Abarth TC Berlina Corsa which we offer here was discovered by the previous owner in 1997 sitting in a back yard in Paso Robles, California. Part of an estate being liquidated, it was missing its engine and wheels and parts were scattered about. A two-year search ensued to locate appropriate parts to begin a rebuild, aided by information from Al Cosentino, a noted authority who was once an Abarth importer and racer. As completed, the car is fitted with a high performance 1050cc Abarth engine, said to deliver 110hp at the 8,000rpm redline. It puts that power down through a 5-speed Abarth transmission and a limited slip close-ratio differential. An Abarth remote oil filter works with the front-mounted oil cooler and Abarth radiator to keep things cool at speed, and Girling disc brakes haul it down when needed. Koni shocks and Campagnolo Abarth wheels, 6-inch in the front and 8-inch in rear keep things nailed down around corners as does the evolutionary rear engine hatch, which acts as a fixed spoiler.

Sitting behind the wheel, the original 1967 instruments can be seen in the factory binnacle, while a few additional modern gauges to monitor all engine systems have been sensitively mounted atop and below the dashboard. Having raced at VARA events at Las Vegas and Buttonwillow, as well as in HSR events at Las Vegas and Phoenix in the previous owner's hands, this Fiat Abarth proved itself a potent racing weapon. The car recently had a new motor installed and will require the usual running-in and re-commissioning before returning to the track. This thrilling little pocket rocket is a reminder of Carlo Abarth's extraordinary genius.
Footnotes