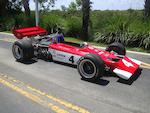 The Ex-Mario Andretti, George Follmer, St. Jovite and Mid-Ohio 1970 winner
1969 Lotus 70 Formula 5000 Single Seater
Chassis no. 1
* 5-liter Ford Boss V-8
* First example made
* Unique Lotus Formula A/5000 race car
* Ex-Mario Andretti
* Period race history
* Beautifully restored

From the early 1960s until the early 1970s Lotus reined supreme, accumulating no fewer than seven Formula One Constructors' World Championship titles and a succession of race-winning designs for all single-seat formulae including Junior, Formula 2, 3 and Ford. They had also even won the 1965 Indianapolis '500'. At Lotus, Colin Chapman was the "Guv'nor" and his passion for motor racing and the brilliant designs that left his Cheshunt and Hethel works are legendary.

Seemingly undefeatable, and with an Indy win under their belt, there was no reason why they couldn't produce a competitive 5 liter single seater following the debut of the new Formula Atlantic in the SCCA in 1968. In Motoring News on November 13, 1969 that contender was announced. Closely resembling the contemporary Formula 1 and Formula 2 designs of its day, the Lotus 70 was designed by Martin Wade and had been tested for Lotus by Emerson Fittipaldi that week at Snetterton as that publication could detail. The central monocoque and integral use of the engine and gearbox as part of the car's structure were all hallmarks of the brand, only naturally they were beefed up to accept a 5 liter power unit. First they were tested with a Ford 302 motor, then with Chevrolet engines and as supplied in production they could be bought as rolling chassis suitable for either, but not readily interchangeable.

This car is accepted as the first such production car of a modest run of nine that were built. The car is known to have been sold new to Koshland Competition ready to be raced at Sebring on December 28, 1969 by none other than the great Mario Andretti. True to form of the marque and the driver, Andretti put the car on pole and when the flag dropped he quickly raced to a formidable leading position comfortably ahead of the field, but on the 12th lap the Ford motor gave in and they were forced to retire. In a review of the race one publication commented 'The brand new Lotus T70'... 'showed a considerable cornering advantage over the other cars' although it sagely followed 'but then, what Andretti-driven car doesn't show a cornering advantage'.

In 1970, the car was driven by George Follmer who further proved its potential with a 3rd place at Elkhart Lake, 2nd at Lime Rock and by winning at St. Jovite and Mid-Ohio, he would race the car through this season although later in the year it is thought to have been owned by Ron Grable. Bruce Eglington of South Pasadena, California would take over the mantle running the car through '71-'73, before Butch Henneger became its next driver. He would run the car at Road Atlanta in August 1973 after which it became the property of Rodney Green of Colorado, who would maintain contact with the car for much of the next 3 decades. After its career, he was responsible for restoring the car for then owner Ken Johnson and by the early 2000s it came into his possession.

Today, the car comes to market in its original Koshland Racing, Andretti livery and being prepared to its original Ford Boss engine specification. With growing enthusiasm for the Formula 5000, particularly in the Southern Hemisphere, this package of a beautifully restored and well storied race car offers a potent entry for historic racing.
Footnotes