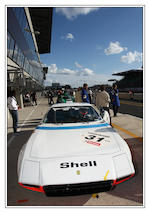 The ex-North American Racing Team, Le Mans/Otto Zipper Daytona 24-Hours
1972/75 Ferrari 365 GTB/4 Daytona Competizione Spyder
Coachwork by Michelotti
Chassis no. 15965
Engine no. 15685 (see text)
* 4.4-liter Competition spec. V-12
* Five-speed manual gearbox
* One of four Michelotti Daytona Speciales made
* Prepared by NART for Le Mans in 1975
* Finished in period race livery
* Successfully raced at Le Mans Classic & Tour Auto
* Eligible for a wide range of historic events

Ferrari history is studded with a number of one-off custom-made cars assembled in defining form by or for wealthy and well-connected clients. In each case they had simply developed an individual taste for what they required to make an already special car – a great Ferrari – entirely unique.

It was often the legendary Italian marque's primary American importer, Luigi Chinetti Sr – Mr Ferrari's old friend and sparring partner, and the first driver to win the Le Mans 24-Hour race no fewer than three times - who had the contacts and the know-how to bring these bespoke Ferrari ambitions to fruition.

Here we offer this unique, highly individual, and entirely distinctive custom-converted Ferrari 365GTB/4 which was re-bodied from its standard production form – as shared with so many other standard Ferrari 365GTB/4s – by the celebrated Italian coachwork company of Michelotti.

Three Michelotti 'one-off' Ferraris were constructed for Mr Chinetti's North American Racing Team concern – NART - in 1974, 1975 and 1980. The first, in 1974, was a soft-top convertible destined for actor Steve McQueen which was displayed at that year's Salone dell'Automobili at Turin – the Turin Show. It featured a Targa-type roll-over bar, subtly cut-down doors, a dark-toned front bumper and pop-up headlamps to maintain its long, low hood line. The third Michelotti NART Ferrari Spider design – to which two cars were produced in 1980 – was a more restrained and sober concept, while the unique Ferrari now offered here is the second of this Michelotti-NART design trio, produced in 1975 to the order of Luigi Chinetti's North American Racing Team and intended essentially to compete in the Le Mans 24-Hours race, ten years after NART had secured Ferrari's last outright win in the great race, with the Ferrari 275LM co-driven by Masten Gregory and Jochen Rindt in 1965...

NART had been commissioned by American Ferrari enthusiast Dan Ward, who was a wealthy client of Chinetti's American importership, and Mr Chinetti had taken it straight to his friend Giovanni Michelotti, in Orbassano, Turin, Italy.

The Studio Tecnico Carrozzerie Giovanni Michelotti, had been established there in 1951. Giovanni Michelotti himself had been born in Turin thirty years earlier - in 1921. He had begun work aged only 16 at the coachbuilding company of Stabilimenti Farina. Postwar, in 1949 he began producing styling designs as a freelance working for several of the most prominent Italian carrozzeriere. He worked most especially for Carrozzeria Alfredo Vignale, and consequently the considerable number of now highly-prized early-1950s Vignale-bodied Ferraris actually wear Michelotti-styled bodywork.

He also worked as a consultant stylist for Allemano, Ghia and Bertone, while his most prolific work would be for the British company of Standard-Triumph, for whom he styled the Herald, Spitfire, GT6, TR4, 2000, 1300, Dolomite and the ingenious 'Targa bar' Stag 2-plus-2. Giovanni Michelotti was also responsible for the BMW car series which embraced the little 700 followed by the Munich company's outstanding 'New Car' line culminating in their highly successful, and startlingly stylish, BMW 2002 sedan.

Giovanni Michelotti went on to become one of the first of the great Italian stylists to provide designs to the emergent Japanese motor industry. From 1960 his company diversified into design work for a diverse range of alternative products, its talents being exercised upon everything from motor scooters to motor yachts, and even upon what the Italians engagingly describe as "elettrodomestici" – electric domestic machines.

But this startlingly aggressive and potent road-racing Ferrari 365GTB/4 variant with unique bespoke Michelotti body was completed by the Orbassano company in time to be displayed at the 1975 Geneva Salon, after which it was dispatched by Chinetti to preparation specialist Diena in Modena to be prepared to race at Le Mans. Its original production-line V12-cylinder engine was replaced by a 365GTB/C power unit which we understand had been taken from Daytona Competizione chassis '15685'.

The completed car was then entered by the North American Racing Team in the GTX Category of the Automobile Club de l'Ouest's world-famous Le Mans 24-Hours race in France. It was to be driven by Malcher/Langlois and was part of the specialist Ferrari team's three-car entry that year, alongside a Boxer Berlinetta and a Dino. On the Thursday night preceding the race the French organizers told NART that the Ferrari Dino they were running had qualified for the race. But on the Friday that car was not included in the official list of qualified starters. Mr Chinetti insisted that the car had in fact qualified, as he had been told. The ACO officials differed, and the exchanges between the two parties, organizers and entrant, became increasingly heated...

On the Saturday morning, with the race due to start that afternoon, the matter came to a controversial climax. Mr Chinetti – having supported the Le Mans race since as early as his first win there for Alfa Romeo in 1932 – 45 years previously – considered himself grievously insulted by the latest generation of ACO officials, and since they persisted in refusing his Dino a start he promptly withdrew his entire team. Reserve entries were given the race start instead, as the British magazine 'Autosport' reported: "...making Le Mans very expensive and rather unenjoyable for NART, longtime entrants at Le Mans".

This Michelotti-bodied NART Ferrari 365GTB/4 was then shipped to Chinetti's premises in New York, USA, from where it was delivered to Mr Ward in Los Angeles. However, since he had specified a car to be raced at Le Mans – and '15965' now offered here had not actually begun the Grand Prix d'Endurance there as he had expected – he understandably did not pay Chinetti's bill in full.

In 1978, this unique Ferrari 365GTB/4 by Michelotti was entered by American Ferrari exponent Otto Zipper in the 1978 Daytona 24-Hour race, to be driven by Don Devendorf/Jeff Kline, with engine serviced by Bruno Borri in Los Angeles.

The car was subsequently sold to well-known Texan race team patron John Mecom who had it reconditioned for street use. In January, 1987, it was sold at a Scottsdale, Arizona, auction to Pat Ryan, and in August 2001 it was acquired by the French GTC company of Marseilles and returned to Europe, with EU taxes being paid upon it.

The car was then raced mot successfully in the 2003 Shell Historic Ferrari Maserati Challenge race at Spa, Belgium, where it proved as fast as a very special standard-design Daytona Competizione and finished third overall. In doing so it actually finished ahead of a very well known rear-engined 5-liter V12 Ferrari 512M...

In July, 2006, the car was sold to Swiss enthusiast Michel Abellan who subsequently drove, together with Sebastien Boulet, in major Historic and Vintage events at Laguna Seca, the Le Mans Classic, the 2007 Tour Auto and within the Ferrari Challenge series.

The car's Michelotti coachwork was repainted in 2008 to match its 1975 Le Mans 24-Hour race livery, and in 2009 we are advised that the car was "totally revised mechanically".

As offered here, this unique special-bodied left-hand drive Ferrari is finished in white with blue leather interior furnishing. It has never been crashed and has always been carefully maintained with its recorded 9,000 miles from new believed to be genuine.

Its V12 engine, gearbox and suspensions were fully rebuilt and restored in November 2002 to Group 4 Daytona 365GTB/C Series 3 Competizione specifications – offering some 470bhp. As offered the car retains Daytona Competizione 4-cam V-12 engine serial '15685', and it had also been returned to its 1978 Daytona 24-Hour race specification with a recorded weight of 1,340Kg – 2,954lbs.

This is not only a unique and totally distinctive Ferrari 365GTB/4 with Le Mans and Daytona 24-Hour history, it is also presented here – we are advised – "on the button" and "ready to run". The Ferrari factory accepted it in September 2002 as an acceptable Daytona Competizione model, it is eligible for such absolutely world-class Historic and Vintage events as the Le Mans Classic, the Tour de France Automobile ('Tour Auto') and the Goodwood Festival of Speed, and has always been in demand as a spectacular Concours example of bespoke bodywork design upon a Ferrari production base. It is one of the last Ferraris upon which which the celebrated Italian stylist Giovanni Michelotti worked his artistry, and as such marks the 1970s postscript to his great work twenty years earlier upon the Vignale-bodied Ferraris from Maranello.

This is, in short, a highly individualized competition-spec Ferrari ideal for an owner who wants to stand out from the crowd of 'ordinary' Ferraristi with their standardized factory models.

Add the cachet of four-time Le Mans-winning Luigi Chinetti Sr – three times as a driver, once as entrant - his flag-waving North American Racing Team and of La Ferrari's Prancing Horse itself, and it is clear that '15965' offered really is worthy of the closest inspection. It is a highly useable and potentially highly competitive racing 365GTB/4 of unique distinction.
Saleroom notices
Please note that this vehicle is offered on a Bill of Sale