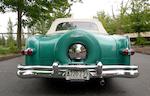 1953 Packard Caribbean Convertible
Chassis no. 2678-2061
Engine no. L405945
* 327-cid straight eight
* Ultramatic automatic transmission
* 61st of 750 Caribbeans produced in 1953
* Three owners from new
* Proven show winner and driver


The 1953 Packard Caribbean Custom Convertible is such a handsome automobile, so in tune with its time, so tastefully turned out and elegantly configured that it is rather perplexing as to why the brand ceased to exist only a few short years later. The Caribbean represented a high water mark for Packard and was the pinnacle of their postwar model development. It was no surprise, then, that this luxurious limited production model struck a chord with the mid-Fifties automobile market when it was introduced in January 1953.

Taking its cues from the 1952 Pan American show car designed under Dick Teague's guidance by Richard Arbib, it featured a lowered chassis, a low air scoop at the very front of the hood, full rear wheel well cutout, and "fishtail" rear fender termination. Elegant details included chrome Kelsey-Hayes wire wheels, exclusive wheel arch and rocker panel chrome moldings, special window sill chrome trim that dipped down to accent the curve of the front of the rear fender and a rear mounted enclosed spare wheel and tire.

Powered by the 180 horsepower, 4-barrel carburetor, high compression cylinder head version of Packard's estimable 327-cid straight eight engine with Ultramatic automatic transmission, the Caribbean eschewed chrome side trim and the rear fender "jet pods" that cluttered up other Packard's flanks.

It was clean, distinctive, sharp and elegant. Hand assembled and carefully finished in a quality-oriented environment, the Packard Caribbean Convertibles were the top of Packard's line in 1953, with a list price of $5,210. It was well received in the market but little preparation had been made for production and deliveries didn't start until March 1953. Despite its late introduction and shipping delays, by the end of 1953 Packard production 750 had been built.

This Caribbean, presented in its original shade of Gulf Green Metallic (a color unique to this model), was the 61st example to roll off the production line in Iona, Michigan. It was delivered to Seattle, Washington on May 8, 1953 and purchased by James "Jim" F. Hodges, a well known businessman in the Seattle area. The car has remained near Seattle all these years.

Keeping the car for only a few years, in 1955 the Packard was purchased by Mary Christina Nuckols, a friend of Hodges. Mrs Nuckols thoroughly enjoyed the car until she could drive no longer, at which point the Packard was put on blocks in her garage. Discovered by the vendor in the mid-1980s, it was not until 2004 that he was finally able to convince her to part with her beloved Packard.

Upon purchase, the plans called for a sympathetic refurbishing to 'driver' standard, but as is often the case, the decision was eventually made to completely restore the car to show-level condition. The Bendix Treadlevac and all four brakes were frozen, so a rebuilt Treadlevac was installed and all of the brakes were thoroughly restored. The transmission was found to be in good shape, but was nevertheless torn down, cleaned, and rebuilt with new gaskets.

Under the hood, the original engine was complete but needing a rebuild. Just prior to commencing the work, however, an ad for a correct NOS 327ci long block proved a more economical solution was available. The fitted block, turned-out in all correct NOS parts inside and out, was tested, refinished, and installed in the car with a rebuilt carburetor and fuel pump. Since this block had never been stamped, the original engine number was stamped on the new block.

Lundy Adkins of Quality Restoration and Street Rod stripped the body to bare metal and repainted the Packard in the correct color. All of the trim was sent off for refinishing and rechroming. All new rubber, gaskets, hoses, seals, and wiring was installed. Inside, color matched leather was trimmed and fit to the seats and a new top, boot, and carpet were fitted by noted specialist John Parkhurst. All in all, some $97,000 in restoration work has been performed and an extensive documentation file accompanies the car. A comprehensive writeup of the car's history can be found at http://www.billscaribbean.wordpress.com.

With the work completed in 2006, the Caribbean went on to receive awards at the Steamworks Concours d'Elegance in Vancouver, BC in 2006 and the Hillsborough Concours d'Elegance in Hillsborough, CA in 2008. In both cases, the Packard was driven from the Seattle area, a testament to the quality and usability of its restoration. Certainly no trailer queen but right at home on the Concours green, it is now ready for another driver to enjoy.
Footnotes