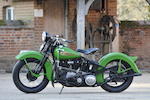 1938 Harley-Davidson EL 'Knucklehead'
Engine no. 38EL88896
Without question one of the most handsome and readily recognizable motorcycle power units of all time, the Harley-Davidson 61ci overhead-valve v-twin - known as the 'Knucklehead' after its distinctively shaped rocker boxes - arrived powering a stylish all-new motorcycle in 1936. A twin-loop frame was deemed necessary to handle the 61's increased power (37bhp in 'E' and 40bhp in high-compression 'EL' forms) while the front suspension too was beefed up, the forks switching to oval tubing in place of the previous forged I-beams. Teething problems associated with the earliest examples had been sorted out by 1937 and the Milwaukee factory quickly set about establishing the EL's performance credentials, Joe Petrali setting a new speed record of 136mph at Daytona Beach on March of that year while Fred Ham later averaged 76mph for 24 hours at Murco Dry Lake in California to set a new best mark.

Progressively improved, the ohv Harley became available in 74ci (FL) form from 1941, remaining a cornerstone of the Milwaukee range in 'Panhead' and later 'Shovelhead' versions until superseded by the Evolution-engined bikes in the 1980s.

The vendor purchased this fine 'Knucklehead' at a Chicago auction in September 2001, at which time it was described as 'cosmetically restored with the correct green paint and 23,280 miles on the odometer.' Since acquisition the Knucklehead has been kept on display in the owner's private museum in the UK (the odometer reading has increased by just one mile) and will require re-commissioning before returning to the road. The machine is offered with an ignition key and its auction labels.
Saleroom notices
Please note that the title for this motorcycle is in transit.