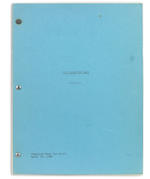 UNIVERSAL STUDIOS—1920s-1930s.
This lot features a collection of approximately 50 typed and mimeographed mss, approximately 200 pp, most 4to, [Los Angeles] 1925-1937, likely producer Lester Cowan's file of story coverage from that period, many pages creased, toned, thumbed, with some rought edges.

An intriguing file of coverage produced mostly by Universal's story department, and including reports on authors such as BEN HECHT, RACHEL FIELD, FRANCES HODGSON BURNETT, ELMER RICE, DOROTHY AND HERBERT FIELDS, KATHLEEN NORRIS, EDNA FERBER, VERA CASPARY, ARNOLD BENNETT, and GENE MARKEY, among others. Of particular note is a 3 pp review of the opening night performance of Preston Sturge's first play, Strictly Dishonorable, (1929), a 1 page review of MAx Brand's Destry Rides Again (1937), and a 13 pp report on Fannie Hurst's Back Street (1930). Should be viewed.