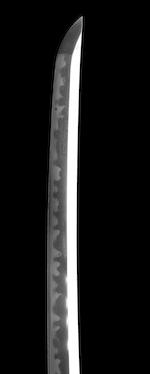 A mounted shin-shinto wakizashi
By Yoshikuni, 17th century
The blade of hira-zukuri form, sanbon-sugi-ha of nie, the indistinct hada of tight itame, the suriage nakago with two mekugi-ana, signed Yoshikuni; koshirae: red lacquer saya, associated shakudo and gilt-metal menuki, shakudo nanako fuchi with ju characters, and modern tsuba; with silk brocade bag. The blade 51.5cm (20¼in) long. (2).
Footnotes