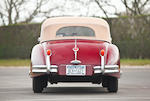 Four owners from new
1955 Jaguar XK140 SE Drophead Coupe
Chassis no. S817336 DN
Engine no. G2998-8S
"For 1955, Jaguar presented a range of models incorporating not only added refinements, but mechanical advances directly derived from their many outstanding successes in international competitive events. All the wealth of experience gained on the race-tracks of the world and in record-breaking speed and endurance tests is built into every Jaguar to provide for discriminating motorists the highest degree of efficient performance allied to comfort and safety." - Jaguar Cars Ltd.

Launched in 1954, the Jaguar XK140 was broadly similar to, though more refined than, its sensational XK120 predecessor, major engineering changes being confined to the repositioning of the engine 3" further forward and the adoption of rack-and-pinion steering as used on the racing C-Type. The suspension and brakes remained much as before, though with stiffer torsion bars at the front and telescopic shock absorbers replacing the previous lever type at the rear. Like its forbear, the XK140 was built in three model types: roadster, coupé and drophead coupé, the latter two offering usefully increased cabin space and occasional rear seats. Outwardly the newcomer was distinguishable by its revised radiator grille, rear lights incorporating flashing indicators, and larger bumpers - the latter adopted to withstand the cut and thrust of urban parking.

The power unit remained Jaguar's well-tried, 3.4-litre, twin-cam six, which now produced 190bhp in standard trim thanks to higher-lift camshafts and revised porting. To ensure reliability, steel bearing caps replaced the previous cast-iron type. A close-ratio gearbox enabled better use to be made of the increased performance while Laycock-de Normanville overdrive became an option for the first time. Special Equipment (SE) XK140s came with wire wheels and Lucas fog lamps, and could be ordered with an engine developing 210bhp courtesy of the 'C'-type cylinder head. XK140 performance was well up to the standards set by its exemplary predecessor, contemporary magazine road-tests regularly recording top speed figures in excess of 120mph. Tested by Road & Track magazine, a USA-specification XK140MC (as the 'C'-type head-equipped SE version was known there) recorded a 0-60mph time of 8.4 seconds on the way to a top speed of 121.1mph.

This well presented Drophead Coupe is known to have had a mere 4 owners from new. A letter from Jaguar Cars confirms that it was originally sold new in the States through Charles H. Hornburg's esteemed dealership in Los Angeles and had been manufactured on March 31, 1955. It was originally purchased by T.M. Walker. From Walker the car passed to Lynn Stevens and then to Rome Arnold. In Mr. Arnold's ownership in the late 1980s the car was the subject of a thorough restoration by J.K. Restorations of Oswego, IL, during which the color was changed to the attractive Claret red scheme it wears today and the interior was refurbished in biscuit hide.

Acquired by the present owner in 1997, it has continued to be well maintained by noted specialists Northumberland Engineering of Southampton, Long Island.

Today, the car presents extremely well, its now older restoration wearing well. A particularly nice aspect is that its simple chain of ownership means that its history is known from new and that it retains original factory tools, handbook and an original 'minor replacement outfit' - a rarely seen period accessory.

Jaguar's Drophead Coupes provide a car for all seasons, arguably the ideal solution for the changeable New England climate, with its desirable sporting 'SE' specification and overdrive gearbox too, this makes for an extremely versatile and usable example of the model.
Saleroom notices
Please note this vehicle is titled under its engine number, G29988S.