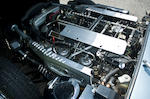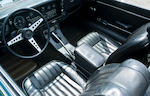 1973 Jaguar XKE Series III Convertible
Chassis no. UDIS21868BW
Engine no. 7S9993LA
Body no. 4S3568
Gear Box no. 14838

Testing the E-Type Series III back in 1972, Road & Track magazine reckoned the new V12 power unit, "a sheer delight, by itself almost worth the price of admission. The V12 is a lovely piece of machinery, lovely to listen to and lovely to behold."

One consequence of the E-Type's long process of development had been a gradual increase in weight, but a good measure of the concomitant loss of performance was restored in 1971 with the arrival of what would be the final version – the Series III V12. Jaguar's new engine could not have enjoyed a more fortuitous parentage, having been designed by Walter Hassan and Harry Mundy, two of the most experienced and respected engineers in the industry. Weighing only 80lb more than the cast-iron-block, 4.2-liter XK six it superseded, the new all-alloy, 5.3-liter V12 produced 272bhp, an output good enough for a top speed comfortably in excess of 140mph. Further good news was that the 0-100mph time of around 16 seconds made the V12 the fastest-accelerating E-Type ever.

Beneath the skin, ventilated front discs improved braking power and the front suspension gained anti-dive geometry. Lucas transistorized ignition and Adwest power-assisted steering were now standard, while an automatic transmission was one of the more popular options on what was now more of a luxury Grand Tourer than an out-and-out sports car. Flared wheel arches, a deeper radiator air intake complete with grille, and a four-pipe exhaust system distinguished the Series III from its six-cylinder forbears, plus, of course, that all-important 'V12' trunk badge. The interior though, remained traditional Jaguar.

The V12-engined Series III would turn out to be the final edition of this charismatic and most coveted of British sports cars, and when production ceased in 1975 over 15,000 of this last-of-the-line model had been produced.

This light blue over black leather E-Type is well equipped with factory air-conditioning, power steering, and chrome wire wheels. Purchased by the vendor from its long-term owner in South Carolina and brought north to its current home, immediately after acquisition it was sent to Jaguar specialist Paul Maletsky who extensively went through the car, attending to a number of details. The front suspension, ball joints, Pirelli P4 tires and electronic ignition were all replaced. A new stainless steel exhaust system was put in place while the brakes and hydraulics were thoroughly inspected and attended to, resulting in the replacement of the hoses, booster, and master cylinder. The Borg Warner automatic transmission and Lucas electrical system were both checked and repaired as needed. A full regular maintenance was also conducted to ensure everything was in order.

Besides the upkeep one would expect and a later respray, this Jaguar is as it left the Coventry factory. Reported to run and drive well, the vendor reports that it is not only a pleasure to wheel around, but that it is plenty comfortable for his six-foot-plus frame. In showing the car locally in the Tri-State area, it has also won some recent awards. Summer is here, it is convertible season, here is your chance to avoid being left without a suitable steed.
Saleroom notices
Please note that this vehicle is title with chassis number UD1S21868B due to a clerical error.