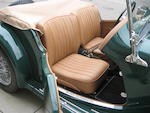 1954 MG TF 1250 Roadster
Chassis no. XPAGTF31294
Engine no. HDP46/1141
Although MGs had been available in the United States in the 1930s, the marque's great popularity really began after World War II. The classic TC model, with its large wire wheels, right-hand drive and exposed rear fuel tank, was regarded as the quintessential British sports car. In 1949, an improved TD offered independent front suspension, rack-and-pinion steering, disk wheels and left-hand drive for New World markets. Wire wheels remained available as an option. In 1952, MG became the best-selling import in America.

By 1953, however, the TD was beginning to look old fashioned, as competitive sports cars from Triumph and Singer entered the field. Plans were afoot for a new streamlined model, which would emerge in 1956 as the MGA. In the interim, the TD was given an evolutionary makeover, with a swept-back radiator grille and more sweeping fenders. Headlamps were nestled into the inner surface of the front fenders.

Mechanically the new TF model, introduced in October 1953, was TD-based, with the same XPAG 1,250cc engine, but with valve and carburetor improvements. A taller standard final drive ratio was better suited to American highways. While TD production had reached nearly 30,000, the comparatively short TF 1250 run came to just 6,200, with a further 3,400 of a 1,466cc TF 1500 in 1954 and '55.

Purchased by the current owner last June, this MG TF 1250 is believed to have been purchased new by Richard Elkis of Cincinnati, Ohio. It was owned from 1974 to 2007 by Ron Hart, also of Cincinnati. The third owner commenced a comprehensive restoration in 2007, which was completed in August 2008. The drive train and all mechanical components were rebuilt and refinished to original specification. The interior was completed in tan leather, as original, with black carpeting. The exterior was refinished in single-stage urethane British Racing Green, duplicating the original color. Following the purchase by the vendor, the car's fourth owner, the cooling system and radiator were serviced.

The panels show excellent fit and finish, and all glass and trim have been refinished to new condition. Top and side curtains are done in new tan Haartz cloth, and the desirable chrome wire wheels are fitted with blackwall radial tires.

Given Special Commendation at the Cincinnati's 2009 Ault Park Concours d'Elegance, this rare MG is a joy to see and a delight to drive. Reported to be an excellent runner by the owner, a full summer season of spirited motoring awaits the next owner.
Saleroom notices
Please note that this vehicle is titled under its engine number XPAGTF31294, and its correct chassis number is HDP461141.