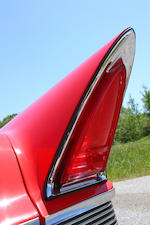 From the Beardslee Collection
1957 Lincoln Premiere Convertible
Chassis no. 57WA20832L
The 1957 Lincoln was an updated version of the all-new 1956 model, which itself had been inspired by Ford's dramatic 1955 Futura show car.

In addition to their new and dramatic blade-like rear fins, the 1957 Lincolns featured a novel Quadra-Lite headlamp system. Regular single-unit low-/high-beam headlamps were stacked above smaller "road" lights, which operated via a separate switch. The lighting arrangement was Lincoln's response to the states whose legislatures had threatened to block the planned industry-wide adoption of quad headlamp systems for '57.

A 368 cubic-inch, 300-hp overhead valve V8 with four-barrel carburetor, dual exhausts and a "Turbo-Drive" three-speed automatic transmission were standard equipment on the 1957 Premiere. Standard safety features included the padded dash, "deep-dish" steering wheel and rein-forced door latches. Unique to the Premiere line, the Convertible's stand-up hood ornament was inspired by that of the ultra-prestigious Continental Mark II also offered by Lincoln in 1957.

This Premiere is an example of Ford Motor Company's finest convertible for 1957. Finished in Huntsman Red, with a striking two-tone red and black interior, it is one of 3,675 such cars built by Lincoln for '57. Power steering, brakes and windows were included in its $5,381 list price.

The offered car is additionally equipped with power-operated vent windows, a Town/Country push-button radio with power antenna, and bright rocker panel moldings. The Lincoln convertible's self-locking "Robotic" power top is a feature unique to American soft-top models that year.

The 1957 Lincolns are the only examples of the marque ever to carry the "canted rear blade" tail fin design, as Lincoln styling veered off in an entirely different direction for 1958. The starburst motif that appears on the trim and wheel covers on the 1957 Premiere Convertible is a variation of a design now considered to be an iconic symbol of the 1950s "atomic age".

Subject to a comprehensive restoration by Hibernia Restorations in 1996, this car was thoroughly and accurately attended to with no detail overlooked. Gene Beardslee was known for his Lincolns and he was not about to compromise in any way on the restoration of this Premiere. The interior is particularly sumptuous, the leather and cloth trimmed seats are intoxicating to sit in, and the futuristic dashboard and flowing hood are elements to be enjoyed. Close examination reveals only minor signs of age and use. The car continues to run and drive very well and has been subject to recent service work. Overall, this 1957 Lincoln is an example of a restoration being performed by and for truly passionate automotive enthusiasts.