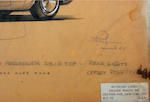 A Raymond Loewy Studabaker Avanti concept drawings, March 1961,
colored pencil and charcoal sketch on vellum drafting paper, signed with Raymond Lowey's "REL" signature and the Raymond Lowey/William Snaith INC 425 Park Ave NY 22 USA sticker, depicting a 3¼ rear view angle of the car, comments and suggestions from the design team are written on the perimeter of illustration, some signs of wear with age, artfully mounted on fiberboard and encased in Perspex style frame, 14 x 22in. overall.

Saleroom notices
Please note this lot consists of one drawing.