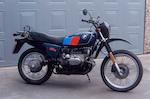 Only 3,568 miles from new
1983 BMW 798cc R80G/S
Registration no. A693 MUB
Frame no. 6258129
Engine no. 6258129
Recognising the increasing demand for off-road styled models, BMW re-entered the ISDT in 1979 as a means of publicising its forthcoming range of enduro roadsters. The first of these, the R80G/S, was announced in September 1980. Based on the equivalent R80/7 roadster, the G/S featured a 21" front wheel, raised mudguards, high-level exhaust system and a single-sided swinging arm. Strikingly finished in white with a red seat, the R80G/S was too heavy for serious rough stuff but nevertheless excelled as a long-distance tourer, a market sector that its successors dominate to this today.

Testing the 'gentleman's green laner' R80G/S in 1981, Bike magazine observed: 'Even on regular continental roads… the BMW road bike is still regarded as the ultimate touring motorcycle – and with good reason. Its ability to soak up the most bizarre road conditions and still maintain a reasonable cruising speed is legendary. The R80GS is in the same mould, it's just rather more styled and modified to cope with some of the expected extremes.'

This highly original BMW R80G/S is one of six supplied by Alan Jefferies to Leeds City Council for use by rangers in the city's Roundhay Park. It is understood that 'A693 MUB' is one of two retained as 'back ups', hence the relatively low recorded mileage of 3,568. The machine was acquired by the current owner in 1997 (purchase receipt on file) and has been kept in dry storage since 1999. It is offered for sale following re-commissioning by T J Horrocks Motor Engineers of Selby, benefiting from cleaned carburettors and fuel tank; overhauled front forks and brake master cylinder; fresh engine oil; and a new air filter and battery (see invoice for £438 on file). Described as in generally good original condition, with no faults, this collectible modern BMW is offered with the aforementioned documentation, three expired MoTs from the 1990s, old-style Swansea V5 and MoT to August 2013.