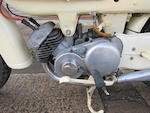 1962 Ariel 247cc Arrow Super Sports
Registration no. SFO 796
Frame no. T29432/G
Engine no. T2876A
The Ariel Leader, and its sports derivative, the Arrow, sought to combine the virtues of speed and agility with those of cleanliness and convenience. Launched in 1958 and powered by an all-new 247cc air-cooled two-stroke twin with unit gearbox, the Leader also broke with British tradition in its frame and suspension design, employing a stiff, fabricated-steel beam instead of tubes, and a trailing-link front fork. Announced in 1959, the Arrow dispensed with the Leader's enclosure panels and weather protection while remaining mechanically virtually identical. The Arrow was revised for 1961, gaining squish-band, centre-plug cylinder heads, and a third model - the Arrow Super Sports, universally referred to as the Golden Arrow after its distinctive colour scheme - was added at the same time. This restored Arrow Super Sports was purchased by the vendor approximately seven years ago and used occasionally up to one year ago. The machine is currently fitted with a Leader engine ('T2876A') and we are advised that a spare engine ('T30057B') is included in the sale. 'SFO 796' also comes with four old tax discs, old/current Swansea V5/V5C documents and 11 expired MoT certificates indicating that it has covered fewer than 2,000 miles since 1998. It is expected that the machine will possess a fresh MoT certificate at time of sale.