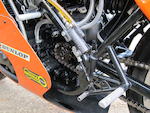 The ex-Steve Tonkin, Isle of Man TT
1979 Harris-Honda 598cc TT Formula 2 Racing Motorcycle
In 1978 Honda supplied five factory-prepared engines - apparently over-bored versions of the four-cylinder CB550F unit - to well known dealer/entrant Bill Smith to be used in the construction of racers for the TT Formula 2 class, which was for four-stroke motorcycles up to 600cc and two-strokes up to 350cc. Smith commissioned their construction using various frame makers. When completed in 1979, this Harris-framed machine was sold to Bill Head, the well-known dealer and race sponsor, who duly entered the bike for Steve Tonkin to ride in that year's Formula 2 TT in the Isle of Man.

Tonkin, who would go on to win the 1981 Junior TT for Armstrong, averaged 98.59mph to finish in 3rd place at the end of the five-lap race, which was won by Alan Jackson on board a machine fitted with another of the five engines but equipped with a P&M frame. After the TT, Tonkin continued to race the Harris-framed Honda in the Formula 2 World Championship that year. There is a photograph of this machine on page 69 of Peter Kneale and Bill Snelling's book, 'Honda the TT Winning Years'.

In 1983 this Harris-Honda was purchased by the vendor's father directly from its owner Bill Head. Following the vendor's father's purchase, the machine was used for parades in the Isle of Man throughout the 1990s, being cosmetically restored in 1995. The engine was left untouched at this time as it was running faultlessly. The machine was last run in 2006, after which the fuel tank and carburettors were drained.

There are no documents with this racing motorcycle, which represents a rare opportunity to acquire a works-supported Honda with TT history. Stored for the last six years, it will need re-commissioning and the usual safety checks before further use.
Saleroom notices
Please note, the frame number, engine number and registration details printed in the catalogue do not relate to this machine. The frame and engine numbers are not visible. The machine is now offered with a copy letter of provenance from John Carr, who was the head mechanic for Bill Head Motorcycles during the 1970s and early 1980s. The letter confirms that this machine was purchased from Bill Head Motorcycles in 1983 and was sold as the ex-Works Honda FII racing machine ridden by Steve Tonkin in 1979, that achieved a third place finish in the Isle of Man TT Formula II race that year. The original letter will be forwarded by the vendor after the sale