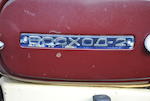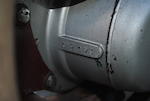 1978 Cossack 175cc Voskhod 2
Registration no. AAY726S
Frame no. W9719
Engine no. 57173
One consequence of the Soviet system of centralised planning and direction was that there were no individual motorcycle manufacturers or marques as understood in the West; rather, model names such as 'Dneiper' and 'Ural' were associated with the products of individual factories, but not generally applied until exports began after WW2. Some of these exported motorcycles were badged as 'Cossack' - a name with some resonance in the West - including the 175cc two-stroke single that was a new introduction for 1967. Named 'Voskhod' after the USSR's space rocket, it remained in production essentially unchanged for many years, its main attraction for Western buyers being the bargain basement price. Last taxed to 31st May 1980 and acquired by its late owner in April 2005, this Cossack Voskhod is offered for restoration and sold strictly as viewed. The machine comes with Swansea V5C document. No reserve.
Saleroom notices
The registration is AAT 726S. Please note this machine is recorded as an Insurance Write Off on the HPI database: VIC PASS: This vehicle has had an identity check carried out by VOSA. The V5 will state "substantially repaired and/or accident damaged: identity checked on 15/03/2005"