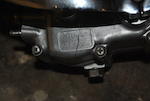 1961 Honda 49cc C110 Sports Cub Project
Engine no. C100E-248423
Introduced in 1958, Honda's classic C100 Cub 'step-thru' gave millions of people the world over their first taste of two-wheeled mobility. Better-built, more powerful and more reliable than the majority of contemporary mopeds, while endowed with handling superior to that of the small-wheeled scooter, the C100 set new sales records for motorcycle production and its descendants continue to be immensely popular today. The first sports derivative, the C110 Sports Cub, appeared in October 1960. This was a proper small motorcycle, with spine frame and a more powerful version of the C100 motor having a higher compression ratio and an alloy cylinder head. The model remained in production until 1966. Presented in semi-restored condition, the paintwork having been redone, this incomplete and partly dismantled example is offered for restoration and sold strictly as viewed. There are no documents with this Lot, which is offered without reserve.