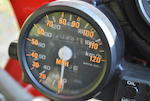 1992 Honda VFR400R Type NC30
Registration no. J133 EUG
Frame no. NC30 1103617
Following the arrival of the VFR750R (RC30) race replica in the late 1980s, it was only to be expected that some of its style and technology would rub off on Honda's smaller V4s. The first of these min race-reps was the NC21, which was followed by the NC24 with RC30-style single-sided swinging arm. Restricted to a maximum of 59PS (59.8bhp) for the Japanese market, these models were not officially imported into the UK, unlike the successor NC30 which boasted a specification not far short of the RC's: alloy beam frame, single-sided swinger, close-ratio gearbox, twin-lamp fairing, RC-type brakes and a 360-degree crankshaft; a class-leading specification justified by the fact that Honda had it sights set on the Isle of Man TT's Supersport 400 class. Boasting RC30 looks and equally exemplary build quality but at a fraction of the cost, the NC30 is fast becoming one of the most collectible classics of the 1990s. First UK-registered in March 1997, this 'grey import' NC30 was purchased from Eddy's Motorcycles, Leeds by its late owner that same month (invoice on file) and currently displays a total of 20,351 kilometres (approximately 12,600 miles) on the odometer. Last taxed for the road to 30th September 2005, 'J133 EUG' has been in storage for the last seven years and will require re-commissioning before returning to the road. The machine is offered with SORN paperwork, old/current Swansea V5/V5C documents and a quantity of expired tax discs/MoTs. No reserve.