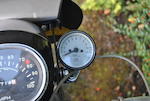 1966 Honda CB160
Registration no. HKT 83D
Frame no. CB160 1056583
Engine no. CB160E 1056339
Launched in 1964, the CB160 followed the pattern of previous Honda parallel twins, though with 360-degree crankshaft layout rather than the larger twins' 180-degree type, and used the recently introduced tubular spine frame and telescopic forks. Small as a '125' yet packing a 16.5bhp punch, the CB160's excellent power-to-weight ratio and fine handling endowed it with performance at least equal to that of most British 250s. With an overhead-camshaft engine, electric starter, rev counter and twin-leading-shoe front brake, the CB160's specification and degree of refinement was unmatched by any of its home-grown rivals. It is now one of the most desirable of early Japanese classics. This imported example was first registered in the UK in 1994 and acquired by its late owner in 1996. 'HKT 83D' has covered 714 miles since restoration in 2001/2002 and in 2003 took part in the Isle of Man TT Lap of Honour. Last taxed/MoT'd in 2007, the machine will require re-commissioning before returning to the road. Accompanying documentation consists of DVLA/SORN paperwork, old/current Swansea V5/V5C documents and a quantity of expired tax discs and MoT certificates. An accessory rev counter, mounted next to the speedometer, is a particularly useful addition. No reserve.