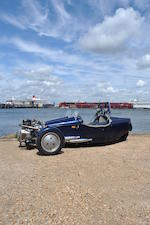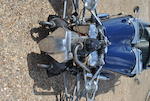 1997 Challenger 1500cc 'Tarkus' Trike
Registration no. Q503 YUJ
Frame no. SA137VR03967043267
Engine no. JGC 01
To describe a machine as 'unique' is an understandably rare occurrence, but, in the case of the Challenger, entirely correct. Built by a retired engineer, an experienced and expert builder of three-wheelers, this is his ultimate machine, combining engineering excellence with a staggering originality of concept, having been featured in both newspapers and magazines. Motive power is a three-cylinder 'radial', using BMW R100 cylinders and pistons as the only stock items, the rest being purpose-designed and built. The crankcase, crankshaft and rods are unique and engineered for long life, the 'cases being machined from solid billet in the maker's comprehensively equipped workshop.

The gearbox is Citroen GS, five-speed, with inboard discs and the front suspension is twin-wishbone, incorporating front-wheel drive. The rising-rate rear suspension attaches to the monocoque, which is fabricated from epoxy-bonded aircraft-alloy 'honeycomb' composite. The leather-upholstered cockpit seats two with ease. Performance is quite mighty, the engine being very loud and muscular, the acceleration formidable and the light weight and 'planted' road-holding making this a machine besides which most other three-wheelers are, in the maker's opinion, under-powered.

Most definitely not for the faint-hearted, the Challenger has proved fast and reliable, both in the UK and abroad, and this iconoclastic machine is only being sold by its maker because a knee operation has prevented its use. Offered with old/current Swansea V5/V5C documents, various papers and articles, with further advice and a range of spares available from the vendor, by arrangement. It should be noted that it has not been possible to locate either frame or engine numbers and that the 'SABTVRO' frame number recorded on the V5C would have been assigned by a vehicle registration office when the original identity of the vehicle could not be determined.
Saleroom notices
The frame number for this vehicle is SABTVR03967043267.