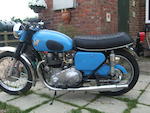 1960 Matchless 498cc 'Model G9'
Frame no. A75249
Engine no. 61/31CSR X6801
Announced in 1948, the Matchless G9 and equivalent AJS Model 20, while following the established pattern of British parallel twins, were unusual in having a third, central, crankshaft main bearing. The new 498cc engine was housed in the sprung frame recently introduced on the heavyweight singles. Progressively developed, the motor underwent a number of capacity increases, finally arriving at 646cc in 1958 with the launch of the AJS Model 31 and Matchless G12. Well-finished, stylish and deservedly popular, the AMC twins were much missed after their demise in 1966. This modified Matchless twin's principal components consist of the frame from a 350cc single dating from 1960, the crankcases from a 1961 AJS Model 31CSR, G9 internals and a 1950s Burman gearbox. There are no documents with this Lot, which is sold strictly as viewed.