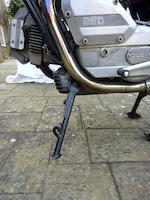 One owner, only 6,100 miles from new
1977 Ducati 860 GTS
Registration no. UGN 909R
Frame no. 851173
Engine no. 853069
Ducati's second-generation v-twin engine - the 900cc 'square case' (actual capacity 864cc) - debuted in the 860 GT tourer. More than just a simple over-bore, the square case engine incorporated a new camshaft drive arrangement, improved oil pump, cartridge-type oil filter and electronic ignition. In addition, the gearchange was moved to the left-hand side and the frame altered to provide chain adjustment at the swinging arm pivot. Ceriani forks, Marzocchi rear units and Brembo brakes were standardised across the range. The 860 GT was soon available with electric starter, which became standard equipment on the 860 GTS in 1976. A number of minor improvements, in particular to the electrical system, were incorporated in the successor 900 GTS introduced in late 1976, though the engine capacity remained unaltered at 864cc.

This 860 GTS was purchased new by the current owner from the London Motorcycle Centre on 15th March 1977. Before delivery it was agreed that a number of changes be made to the specification: alloy wheels replaced the wire spoked standard type; all chromed parts were re-plated in the UK; original Italian handlebar switch-gear was replaced with more reliable Japanese parts; twin Fiamm horns replaced the standard item; an Oxford handlebar fairing was installed, complete with clock and halogen headlamp bulb; and a right-side handlebar mirror fitted (see original purchase invoice on file).

Changes made since then include reverting to a single horn, adding a Ducati prop-stand and fitting front indicators from a later model, the latter alteration necessitated by a low-speed slide off on spilt diesel, which damaged an original. The low mileage is genuine as the Ducati is one of many motorcycles owned and only one can be ridden at a time! Described by the private vendor as in generally good condition, this unique 860 GTS is offered with original sales literature, sundry bills for parts and services, a quantity of expired MoT certificates (most recent 2003-2004) and Swansea V5C registration document. (The original front indicators and Fiamm horns are included in the sale).
Saleroom notices
The registration number is UGN 909R. The frame number is DM860S*851173 DGM13715-OM. The engine number is 853069DM860.