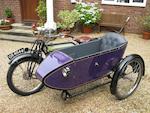 1924 Triumph 550cc SD Motorcycle & Sidecar
Registration no. OR 4644
Frame no. 338844
Engine no. 99808
The first Triumph motorcycle of 1902 used a Belgian Minerva engine but within a few years the Coventry firm - originally a bicycle manufacturer founded by German immigrants Siegfried Bettman and Maurice Schulte - was building its own power units. The company was soon involved in racing and the publicity generated by competition success - Jack Marshall won the 1908 Isle of Man TT's single-cylinder class for Triumph having finished second the previous year - greatly stimulated sales. By the outbreak of The Great War the marque's reputation for quality and reliability was well established, leading to substantial orders for 'Trusty Triumphs' for military use.

Triumph's 3½hp model had first appeared in 1907. Originally of 453cc, its sidevalve engine was enlarged to 476cc in 1908 and finally to 499cc in 1910 before being superseded by the 550cc 4hp model in 1914. Equipped with three-speed Sturmey-Archer gearbox, it was this revised 4hp - the Model H - that did such sterling service in WWI, some 30,000 'Trusty Triumphs' seeing action with British and Allied forces. Updated with chain final drive for 1920, it became known as the 'SD' (Spring Drive) because of its clutch-mounted, coil-spring shock absorber and formed the basis of the later four-valve Ricardo model.

This Triumph SD motorcycle combination was first owned by the current vendor in 1965. In original condition at that time, it was used on club runs and then sold in 1981 (to Kenneth House of Lymington, Hampshire) before being bought back eight years later (purchase receipt on file). The motorcycle was restored in 1988 and the sidecar (make unknown) completely rebuilt in 2007, including an interior re-trim. Last Mot'd in 2005 and described by the vendor as in generally good/very good condition, the machine is offered with old-style buff logbook (issued 1939), copy old Swansea V5 registration document, expired MoT (2006) and current Swansea V5C.
Saleroom notices
The engine number for this vehicle is 99808TGH. It has come to our attention that the front fork yokes/links may not be correctly assembled and may need to be reassembled in order to give the correct amount of rake on the front forks for safe use.