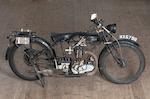 Single family ownership since 1975
1924 AJS 349cc 'Big Port'
Registration no. NX6798
Frame no. 38700 (see text)
Engine no. 38700 (see text)
After victory in the 1920 Junior TT, AJS's new overhead-valve 350 racer scored a memorable double the following year, Tom Sheard winning the Junior race and Howard Davies the Senior - the first time such a feat had been achieved on a 350. The production version made its debut in November 1922, delighting clubmen everywhere with its 'racer on the road' performance. A right-first-time design destined to achieve countless successes in the hands of privateers, the overhead-valve 350 AJS - latterly known as the 'Big Port' - changed only in detail before being superseded by a much-revised M6 model for 1929. This overhead-valve AJS was acquired by its late owner in 1975 and after being fettled was used just once on a local run (see period photograph on file). Last taxed in 1978 and dry stored since then, this sporting flat-tanker will need re-commissioning and the usual safety checks before returning to the road. We are advised that the engine turns – with good compression – and that the gears select. Accompanying documentation consists of a buff continuation logbook (issued 1933), expired MoT certificate (1977) and an old-style Swansea V5. It should be noted that although the machine is registered as a 1924 model it has proved impossible to find any frame or engine numbers and thus the originality of these components cannot be verified. Prospective purchasers should satisfy themselves with regard to the completeness and correctness of this Lot prior to bidding.
Saleroom notices
We were not able to read the frame number of this vehicle. We were unable to locate the engine number.