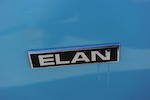 Left-hand drive
1968 Lotus Elan Series 4 SE Roadster
Chassis no. 45/8395
No lesser judge than Professor Gordon Murray – creator of so many Formula 1 World Championship-winning Brabham and McLaren cars, plus the Le Mans-winning McLaren F1GTR and its road-going three-seat Coupe sisters, cites the Lotus Elan as being not only his favourite car but also the exemplar for his entire design ethos.

Sharing this immensely influential regard for the neat, pretty, fabulous road-going production Lotus, Olav Glasius bought this immaculately presented little Elan Series 4 sports two-seater in July 1993. He is only its second owner. First registered in 1968, the then 25-year-old car required full restoration,and in 2004 Mr Glasius entrusted the car to Ken and Neil Myers of Northampton for them to work their magic upon it.He recalls "I asked them to do an absolute last nut and bolt restoration, for this Elan to become the best in the world...if necessary in fact to emerge a bit better than as it left the Lotus factory...".

The immaculate result is now offered here, and significantly the car retains its original upholstery –painstakingly revived – while the folding hood is a new replacement for the unusable original. Opening panel-fits match those of any pressed-steel bodied quality car today and the loving care and attention to detail that has gone into every inch of this very special Lotus Elan is completely evident upon inspection.

The Lotus Type 45 designation was held for the Elan Series 3 Drophead variant which was launched in June 1966, nine months after that of the fixed-head Type 36 Elan.

Electric wind-up windows in fixed frames had become standard and the Elan S3 convertible continued in production at the Hethel factory until March 1968, when it was replaced by the Series 4 such as the example now offered here, which retained the old Type 45 designation.

The then-new Series 4 specification featured flared, squared-off wheel arches accommodating wider 155/13 low-profile radial-ply tyres, plus a bonnet-bulge clearing the carburettors, twin exhaust tail pipes, and larger rear light clusters from the Plus-2. The fascia was also redesigned, offering rocker switches and perforated interior trim was added. The S4 could be bought in kit form for £1,353, fully-built for £1,665 or £1,830 in full Special Equipment form, drive away.

Twin-choke Weber carburettors were replaced as standard by Stromberg instruments in November 1968. Lotus Type 45 Elan production overall ran from 1966-1973, during which period some 4,000 of these delightful little cars were produced. For many enthusiasts the Lotus Elan embodied the very essence of what made the Lotus marque the hugely successful, wonderfully charismatic specialist brand that it became. Compact, lightweight, ingeniously designed, brilliantly well-packaged, possessed of vivid performance from a neat, powerful yet fuel-saving power unit, endowed with superb handling, fine brakes, magnificent steering...the much admired list of Lotus Elan virtues goes on and on.

This Glasius Collection Elan Series 4 is one in which a wealthy and deeply committed marque enthusiast has invested very much more than just money. This is a wonderfully well-restored example of perhaps Colin Chapman's greatest production sports car concept. When it comes to connoisseurial appreciation of what really constitutes one of the finest driving experiences the automotive world has ever offered, Professor Murray and Olav Glasius have got it right. Now here's the opportunity to follow their example...