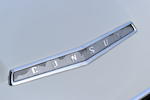 One of just 64 produced
1964 Lotus-Ford Consul Cortina Mk 1 Special Equipment Saloon
Chassis no. Z74424363D
The Ford Cortina GT was already building a major reputation for competitive success in International rallying and circuit racing when Walter Hayes of the British Ford of Dagenham company approached Colin Chapman and Lotus to build further upon this firm base.

The new Ford Cortina-Lotus or 'Lotus-Cortina' entered production in February 1963, with a starting price of £910. While the road cars boasted 105bhp, the racing version possessed more like 150bhp. Once fully developed the Lotus-Cortinas absolutely shone on track, on every Continent bar Antarctica. Lotus-Cortina star drivers included Jim Clark, Jackie Stewart, Graham Hill, Jackie Ickx, Sir John Whitmore, Frank Gardner, Roger Clark, Vic Elford, Trevor Taylor, Peter Arundell, Jack Sears and many, many more.

This example of the legendary 'Lotus-Cortina' is magnificently well presented and is also highly original and unspoiled by the passage of time. The car was delivered new to Dr J.M. Wilde of Markham, King's Lynn, Norfolk in England and is offered here complete with owner's handbook, service book, original invoice (from Ford dealership King's of Kings Lynn), and full tool set. The car carries all the original badges specifying its Ford Consul Cortina and Special Equipment status, and the interior upholstery, fixtures and fittings are the originals. Such an unspoiled Lotus-Cortina is very, very rare these days and extremely difficult to obtain since so few owners are at all inclined to part with them.

Olav Glasius had coveted such a car for many years as his 1960s-inspired enthusiasm for the marque thrived and his business success provided him with the means to indulge his interest. Hans Hugenholtz of Zandvoort fame told him of a "very promising" Lotus-Cortina for sale in the UK, and he was able to acquire the car there in 1983, the purchase price at that time being £12,000.

The original invoice from Lotus Cars (Sales) Ltd – Directors Graham Arnold, Colin Chapman and Fred Bushell - to King's of Kings Lynn cites an as-new price of £1,111 0s 5d, including the £95 0s 0d for Special Equipment specification, £2 5s for number plates, £2 2s (two Guineas) for a bonnet lock, and – significantly - £14 0s 0d for undersealing the bodyshell against corrosion.

Mr Glasius painstakingly restored the car himself over a two-year period and it was perhaps this car more than any other upon which he based his ambitions to put together a Lotus Collection for posterity. In his long ownership this Lotus-Cortina has seen only occasional use, and it is offered here today as one of the finest examples of its type that we have ever had the pleasure to present.


At the time this car was built in 1964, Jimmy Clark – double-Formula 1 World Champion – was on his way to winning the British Saloon Car Championship in a Lotus-Cortina. In 1965 Sir John Whitmore's Alan Mann Racing team entry won the European Touring Car Championship and in 1966 Bengt Soderstrom/Gunnar Palm won the RAC Rally in such a car. Overall from 1963-66 no fewer than 2,894 genuine Lotus-Cortinas were produced. The original A-frame cars were replaced by a 1965 Group 2 model reverting to leafspring rear suspension, and in 1967 a Mark II Cortina-Lotus was produced by the Ford factory, using parts supplied by Lotus. When production finally ceased in 1970, 4,032 of the Twin-Cam cars had been built.

This is an outstanding example of this highly regarded type, and one which has benefited for many years from enormous investment in love, enthusiasm, time and the most sincere interest. It is a connoisseur's car; an unraced, production Lotus-Cortina Special Equipment of excellent provenance, and first rank quality.
Saleroom notices
Please note that this car has been fitted with a replica chassis plate for security reasons but that the original will be supplied with the car.