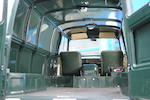 1961 Zephyr 6-engineg Ford Thames Replica Lotus Cars Ltd. Van
Chassis no. N400 VZ11012011
This remarkable triumph of enthusiastic small-commercial restoration depicts one of the medium-capacity Thames vans deployed by the emergent Lotus company to carry car kits, engines, gearbox, axles etc during the 1960s. Lotus had used two types of Thames van, one intended to deliver Lotus Elan and Elite kits to customers by towed-trailer while the alternative for racing team use was equipped with a 2½-litre Ford Zephyr 6-cylinder engine necessary to tow at sustained high-speed on European motorways, and to punch the vehicle and its load "over the Alps". Olav Glasius simply liked the idea of reproducing such a vehicle as part of his Lotus Collection but whilst the idea was simple the process turned out to be highly complicated and, as so often with this collection, a true labor of love – As Olav Glasius explains:

"I heard a rumor that a very low mileage van from the Dutch Leerdam glass factory fire brigade was for sale. Having found the dealer I learned that the story was out of date and that it had been sold to a catering company in a tourist town in the centre of Holland. No company name was remembered so by taking a telephone directory I simply called the restaurants in the town asking if they had an old van. Despite the huge number of restaurants I was able to find it within a few telephone calls..."

Unfortunately the catering company was not willing to do a straight sale as the old van had been good for publicity. Having heard the reasons behind the search they did agree that they would swap if Mr Glasius was able to find a suitable replacement in good condition. A 1961 German equivalent was found (a Tuanus Transit) and Mr Glasius, having been ensured by the dealer that it was in good order, took photographs of the van to the catering company who agreed to swap. He then took the Taunus to the company and drove the Thames home but it turned out that the Taunas was not in good order and Olav Glasius, true to his word, paid for repair bills on the Taunas until it was in good order.

The Thames meanwhile was still 'fire brigade red' with a blue flashlight on the roof. The van was fully stripped and a 'hugely costly' inside and out bare metal re-spray undertaken. The engine bay was enlarged to carry the acquired army surplice 6 cylinder 2½ Litre Ford Zephr engine and with help from the British 400 E club a huge quantity of new parts were sourced including a new laminated windscreen from Sweden! Every part was renewed or overhauled, the steering and pedals were moved from left to right-hand-drive and the final Lotus yellow sign-writing was applied in period style, by hand. While the original petrol-engined Thames vans feature vacuum-driven windscreen wipers which – by common consent – were "utterly useless", the diesel-powered model was equipped with electric wipers. This type was then adopted for use upon the Glasius Collection 'tribute' van as now offered here.
All this work was carried out within the Netherlands and it proved to be an enormous project pursued with unswerving determination "purely for fun". In total the process cost in excess of £50,000 – a labor of love indeed – and only around 800 miles have been covered since this mammoth restoration.

When Mr Glasius raced his Team Elite Type 14 at the Goodwood Revival, this 'Lotus'-liveried Ford Thames van accompanied it as service vehicle-cum-paddock tender. It was immensely admired then and still is today wherever it appears. For the Lotus collector who wants everything, here is a simply superb vehicle – presented effectively as new – which surely cannot be ignored. It certainly is a lovely thing...and fun too.