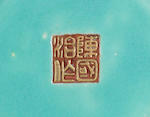 An unusual famille rose relief-moulded simulated-bamboo brush holder, bitong
20th century, impressed four-character mark Chen Guo Zhi Yin
Heavily potted with the design in crisp high relief in the manner of carved bamboo bitong, one side depicting six Immortals on a tree-trunk raft and other Immortals on a river bank, on a pony and flying on their attributes, the other side with a pavilion scene, a dignitary attended by servants watching two lady Immortals and a jue-bearing kneeling attendant on a cloud raft, the decoration richly enamelled and glazed in pink, blue, yellow and olive-brown, wood stand and fitted box. 6.5cm (6½in) diam. (3).
Footnotes