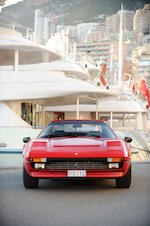 1983 Ferrari 308GTS Qv Targa Coupé
Coachwork by Pininfarina
Chassis no. ZFFLA13B000048793
Engine no. 48793
Introduced at the Paris Salon in 1975, the stunningly beautiful 308GTB marked a return to Pininfarina styling following the Bertone-designed 308GT4 that had launched this highly successful series in 1973. Badged as a 'proper' Ferrari rather than a Dino, the 308GTB had changed little mechanically apart from a reduction in both wheelbase and weight, retaining its predecessor's underpinnings and transversely mounted 3.0-litre quad-cam engine that now featured dry-sump lubrication. In road tune this superbly engineered power unit produced 255bhp, an output sufficient to propel the 308GTB to a top speed of over 240km/h (150mph). Produced initially with glassfibre bodywork, the Scaglietti-built 308GTB used steel after April 1977 while further developments included the introduction of an open GTS version with Targa-style removable roof, the adoption of Bosch K-Jetronic fuel injection and, finally, revised cylinder heads with four valves per cylinder on the Quattrovalvole (Qv) model in 1982. An exhilarating driver's car and a Ferrari purist's delight, the 308GTB and its many derivatives proved a huge commercial success for Maranello with over 12,000 sold.
Representing the 308 in its ultimate, Quattrovalvole form, this left-hand drive 308GTS was purchased in 1983 by a private collector. The car has been kept in long-term storage and maintained in good condition, and currently displays a total of only 29,049 kilometres (approximately 18,000 miles) on the odometer. Offered with Monaco registration papers and roadworthiness certificate.

Introduite au Salon de paris 1975, la superbe 308 GTB marqua un retour au style Pininfarina après la 308 GT4 de Bertone qui avait inauguré cette si réussie famille de modèles en 1973. Sous l'écusson « Ferrari » et non plus « Dino », la 308 GTB avait peu changé du point de vue mécanique à l'exception d'une réduction de l'empattement et du poids, conservant la mécanique de sa devancière et le moteur 3 litres à 4 ACT transversal désormais doté d'un graissage à carter sec. En version routière, ce groupe magnifiquement conçu donnait 255 ch, rendement suffisant pour propulser la 308 GTB à plus de 240 km/h. Produite initialement avec une carrosserie en fibre de verre, la 308 GTB construite chez Scaglietti adopta l'acier après avril 1977. Les développements ultérieurs introduisirent la GTS découvrable avec toit amovible type targa, l'injection électronique Bosch K-Jetronic et finalement des culasses redessinées avec quatre soupapes sur la Quattrovalvole (QV) en 1982. Voiture passionnante à piloter et un délice pour le puriste amateur de la marque, la 308 GTB et ses dérivées signèrent un énorme succès commercial pour Maranello avec plus de 12 000 exemplaires vendus.
Représentant la 308 dans sa forme ultime, la Quattrovalvole, cette 308 GTB à conduite à gauche fut acquise en 1983 par un collectionneur privé. La voiture a été bien conservée dans un garage à long terme et en bonne condition. Elle n'affiche que 25 049 km au compteur, offerte avec ses papiers monégasques et son contrôle technique.