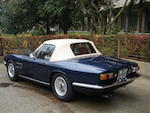 1966 Maserati Mistral 4000 Spyder
Coachwork by Carrozzeria Frua
Chassis no. AM109 SA1 611
Engine no. AM109S1.611
'We do not suppose there are many cars whose names conjure up an aura of exotic glamour to the same extent as that of Maserati. Even now, many years after the company has withdrawn from any form of competition, past glories linger on.' - Sporting Motorist.
Maserati's survival strategy for the 1960s centred on establishing the company - which hitherto had mainly concentrated on its Grand Prix and sports car racing activities - as a producer of road cars. The Modena marque's new era began in 1957 with the launch at the Geneva Salon of the Touring-bodied 3500GT. A luxury '2+2', the 3500GT drew heavily on Maserati's competition experience, employing a tubular chassis frame and an engine derived from the 350S sports car unit of 1956. Suspension was independent at the front by wishbones and coil springs, while at the back there was a conventional live axle/semi-elliptic arrangement. The 3500GT's designer was none other than Giulio Alfieri, creator of the immortal Tipo 60/61 'Birdcage' sports-racer and the man responsible for developing the 250F into a World Championship winner. The twin-overhead-camshaft, six-cylinder engine was a close relative of that used in the 250F and developed around 220bhp initially, later examples producing 235bhp on Lucas mechanical fuel injection. Built initially with drum brakes and four-speed transmission, the 3500GT was progressively updated, gaining five speeds, front disc brakes and, finally, all-disc braking.
Last of these classic six-cylinder Maseratis, the Pietro Frua-styled Mistral commenced production in 1963. The 3.7-litre version of the Bolognese manufacturer's long-stroke engine was fitted to most cars, other options being the 3.5-litre or, from 1966, the 4.0-litre unit. A handsome two-seater on a shortened, square-tube chassis, the Mistral was built in coupé and spyder versions, the former's opening rear window hatch making it an unusually practical car. A five-speed gearbox, disc brakes and fuel injection were standard equipment; automatic transmission, air conditioning and a limited-slip differential the options. Production ceased in 1970, by which time a total of 828 coupés and 125 spyders had been built.
This particular Mistral Spyder has the 4.0-litre engine and five-speed manual gearbox, and thus represents this iconic model in its ultimate and most desirable form. Indeed, only 37 of the 125 factory Mistral Spyders were made with this engine. According to the accompanying copy of the Maserati build sheet of March 1966, the car was delivered new to well known Maserati and Ferrari dealers Auto König in Munich, Germany for their customer, Mr Liebrecht. The specification included Borrani wire wheels, rear seat cushions (modified), hardtop (no longer with the car), reserve fuel tap, electric windows, glove compartment, passenger handle on dash top, door compartments, inner city horn, lockable (by key) passenger door, provision of tow front/rear tow hooks, ashtray under steering wheel, passenger headrest, safety belts, lateral air intakes, Autovox radio and speaker, fog lights, electric clock, folding front seats, special windscreen wipers and blue-tinted door glass.
The car has been owned by the current vendor, a gentleman driver from Modena, for some 15 years and was partially restored circa 2008. Official Maserati specialists Candini of Modena overhauled the engine while the bodywork was restored wherever necessary and repainted in the original dark blue metallic by respected specialists Campana, also of Modena. A new beige hood was fitted by trimming specialists Maieli of Mantova upon completion in 2009. The leather interior is original, possessing a lovely patina, and is complemented by a matching leather hood bag and tonneau cover. The transmission and electrics are described as in original working order, while the chassis was checked when the aluminium body was restored. One deviation from the original specification is the replacement of the often troublesome Lucas mechanical fuel injection with a set of Weber carburettors, though all original parts have been retained and come with the car. This most handsome soft-top Maserati is offered with the aforementioned copy build sheet and valid Italian registration documents.

« Nous ne pensons pas qu'il existe beaucoup de voitures dont les noms évoquent à ce point une aura de glamour et d'exotisme au même degré que celui de Maserati. Même de nos jours, bien longtemps après le retrait de la firme de la compétition, la gloire d'antan persiste ». – Sporting Motorist.
La stratégie de survie de Maserati dans les années 1960 recentra son activité – jusque-là orientée vers les voitures de sport et de course – sur la production de routières. La nouvelle ère de la marque de Modène commença en 1957 avec le lancement au Salon de Genève de la 3500 GT carrossée par Touring. Luxueux coupé 2+2, la 3500 GT profitait largement des expériences de Maserati en compétition avec l'utilisation d'un châssis tubulaire et d'un moteur dérivé du 350 S de sport de 1956. La suspension avant indépendante comportait des triangles superposés et des ressorts hélicoïdaux, tandis que l'arrière conservait un classique pont rigide oscillant avec ressorts semi-elliptiques. Le concepteur de la 3500 GT n'était autre que l'ingénieur Giulio Alfieri, créateur de l'immortelle Tipo 60/61 'Birdcage' de sport-compétition et responsable du développement de la 250 F en une voiture gagnant le Championnat du Monde. Le six-cylindres à deux ACT proche du groupe de la 250 F développait environ 220 cv au début, tandis que les derniers exemplaires disposaient de 235 cv grâce à une injection mécanique Lucas. Née avec des freins à tambours et une boîte à quatre rapports, la 3500 GT fut peu à peu améliorée en recevant une boîte à cinq rapports, des freins avant à disques et finalement quatre disques.
Dernière de la famille des Maserati six-cylindres classiques, la Mistral dessinée par Pietro Frua entra en production en 1963. La version 3,7 litres du moteur longue course du constructeur de Bologne équipa la majorité des voitures, les autres options étant le 3,5-litres ou, à partir de 1966, le 4-litres. Élégante biplace sur un châssis raccourci en tubes d'acier carrés, la Mistral fut produite en coupé et en cabriolet (spyder), le hayon vitré du premier en faisant une voiture très pratique. Une boîte à cinq rapports, des freins à disques et l'injection étaient standard ; la boîte automatique, l'air conditionné et le différentiel à glissement limité, des options. La production fut arrêtée en 1970 sur un total de 828 coupés et seulement 125 spyders.
Cette Mistral Spyder équipée du moteur 4 litres et de la boîte manuelle à cinq rapports représente ce modèle emblématique dans sa version ultime et la plus élaborée car 37 voitures seulement sur 125 Mistral Spyder reçurent ce moteur. Selon la copie de la fiche de fabrication de mars 1966, la voiture fut livrée neuve au très connu concessionnaire Maserati/Ferrari de Munich, Auto König, pour leur client, M. Liebrecht. Les spécifications comprenaient des roues à rayons Borrani, des coussins de siège arrière (modifié), un hard-top (manquant actuellement), un robinet de réserve d'essence, des glaces électriques, une boîte à gants, une poignée de maintien pour le passager au-dessus de la planche de bord , des bacs de portes, un avertisseur 'ville', la porte passager blocable (par clé), des ancrages pour des crochets de remorquage avant/arrière, un cendrier sous le volant, un appuie-tête passager, des ceintures de sécurité, des prises d'air latérales, une radio et des haut-parleurs Autovox, des antibrouillard, une montre électrique, des essuie-glace spéciaux et des glaces latérales teintées en bleu.
La voiture, propriété du vendeur actuel, un gentleman driver de Modène, depuis 15 ans, a été partiellement restaurée vers 2008. Les spécialistes officiels Maserati, Candini, de Modène ont refait le moteur, tandis que la carrosserie était restaurée aux points critiques et repeinte dans le bleu foncé métallisé d'origine par les spécialistes Campana, également de Modène. Une capote neuve de teinte beige été installée par le sellier Maieli de Mantoue lors de l'achèvement des travaux en 2009. L'intérieur en cuir d'origine montre une belle patine et se trouve complété par une housse de capote et un couvre tonneau assortis en cuir. La boîte de vitesses et le système électrique d'origine sont décrits comme étant en état de fonctionnement, tandis que le châssis a été contrôlé lors de la restauration de la carrosserie en aluminium. On notera cependant une entorse aux spécifications d'origine avec le remplacement de la parfois capricieuse injection Lucas par un banc de carburateurs Weber, mais toutes les pièces d'origine qui ont été conservées seront jointes à la voiture. Ce très élégant cabriolet Maserati Mistral est accompagné de la copie de la fiche de fabrication originale et des papiers italiens en cours de validité.
Saleroom notices
Please note that this is a matching numbers 3700, not a 4000 as stated in the catalogue. Veuillez noter que les matching numbers sont 3700, et non pas 4000 comme mentionne au catalogue.