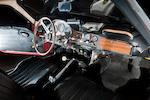 One registered owner from new
1963 Apal-Porsche 1600 Coupé
Chassis no. 1250736
Founded by glassfibre specialist, Edmond Pery, the Belgian manufacturer APAL (Application Polyester Armé de Liège) started producing cars in 1961 and is mainly known for its beach buggies and Porsche Speedster replicas. APAL's first model was a coupé inspired by the 1959 Porsche Carrera Abarth and built on a Volkswagen 'Beetle' chassis, 150 examples of which were produced between 1961 and 1965. Most also used the VW powertrain but this particular car is one of only 30 which were equipped with original Porsche mechanicals - engine, gearbox, wheels, brakes - and other items such as the seats and dashboard instruments. The Apal coupés enjoyed success in racing and rallying, and in the Liège-Sofia-Liège Rally proved faster than the contemporary Porsches thanks to their much lower weight. This example was built in 1963 using a 1957 VW chassis and has a 1,600cc 90bhp Porsche 356 engine (type 616/7). Original and un-restored, apart from an electrical system up-graded to 12 volts, the car is described as complete and in fair condition overall, its engine running well. The APAL has had only one registered owner from new (a Mr Quoibion from Liège, the city where it was made) and comes with its original registration ('R2492', dated 27/09/1963) and some history. Offered with Belgian title, this unique piece of automotive history is a 'must have' for the serious Porsche collector.

Fondée par le spécialiste de la fibre de verre Edmond Pery, la firme belge APAL (Application Polyester Armé de Liège) qui aborda la production automobile en 1961 est très connue pour ses buggies et ses répliques de Porsche Speedster. Le premier modèle APAL fut un coupé inspiré de la Porsche Carrera Abarth, construit sur une plate-forme de Volkswagen Coccinelle. Cent cinquante exemplaires en furent produits entre 1961 et 1965. La majorité utilisait la mécanique de la VW, mais cet exemplaire particulier est une des 30 voitures équipée d'une mécanique Porsche d'origine – moteur, transmission, roues et freins – entre autres équipements tels que les sièges et les instruments de bord. Les coupés APAL connurent beaucoup de succès en course et en rallye, allant dans le rallye Liège-Sofia-Liège jusqu'à marcher plus vite que les Porsche contemporaines grâce à leur poids très inférieur.
Ce coupé Apal, construit en 1963 sur une plate-forme de VW de 1957, est équipé d'un moteur Porsche 356 de 1,600 cm3 (type 616/7) de 90 cv. En état d'origine et non restaurée, à l'exception du circuit électrique adapté au 12 volts, la voiture est présentée comme complète, en assez bon état général et munie d'un moteur fonctionnant bien. Cette Apal qui n'a eu qu'un seul propriétaire depuis sa sortie d'usine (M. Quoibion de Liège, ville où elle a été construite) est accompagnée de son immatriculation originale ("R2492" du 27/09/63) et d'un petit historique. Offerte avec son premier titre d'immatriculation belge, ce rarissime témoin de l'histoire de l'automobile est un "must" pour tout passionné de Porsche.