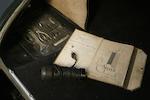 Ex-António de Oliveira Salazar – President of Portugal
1956 Rolls-Royce Silver Cloud Saloon
Chassis no. LSWA222
Introduced early in 1955, the all-new Rolls-Royce Silver Cloud and Bentley S-Series were conceived as replacements for the ageing Silver Dawn and Bentley R-Type. The duo sported sleeker bodywork on a new box-section chassis incorporating improved brakes and suspension, the latter featuring electrically controlled damping. Enlargement to 4,887cc and the adoption of a six-port cylinder head boosted the power output of the dependable inlet-over-exhaust six-cylinder engine. Automatic transmission was now standard and power-assisted steering an option. Fast at 160km/h relatively economical and cheaper to maintain than the successor V8-engined models, the Silver Cloud is arguably the most user-friendly of all post-war Rolls-Royces.
This left-hand drive Silver Cloud saloon has had only three owners, the first of whom was the President of Portugal, António de Oliveira Salazar, who ruled the country from 1932 to 1974. Chassis number 'LSWA222' left the Crewe factory on 2nd January 1956 to be shipped to Portugal on board the vessel 'Paraguay Star' bound for Lisbon, arriving mid-March '56.
Currently displaying a total of 87,927 kilometres on the odometer, the car is described as in generally good condition both mechanically and cosmetically, benefiting from four new tyres and a recent service (fluids/filters). The car comes complete with its handbook, full tool kit and electric torch. Accompanying documentation consists of the original bill of sale, sundry invoices, French Carte Grise and Contrôle Technique.

Introduites au début de 1955, les toute nouvelles Rolls-Royce Silver Cloud et Bentley série S étaient destinées à remplacer les vieillissantes Silver Dawn et Bentley Type R. Le nouveau duo bénéficiait de carrosserie plus élancées sur un nouveau châssis caissonné doté de meilleurs freins et d'une nouvelle suspension, cette dernière pourvue d'un réglage électrique de l'amortissement. L'augmentation de cylindrée à 4,887 cm3 et l'adoption d'une culasse à six orifices éleva la puissance du robuste et sûr six-cylindres semi-culbuté. La boîte automatique était désormais standard et la direction assistée en option. Rapide avec plus de 160 km/h, relativement économique et moins coûteuse d'entretien que les modèles ultérieurs à moteur V8, la Silver Cloud reste probablement la plus utilisable des Rolls-Royce d'après 1945.
Cette Silver Cloud à conduite à gauche n'a eu que trois propriétaires dont le premier fut le Président du Portugal, Antonio de Oliveira Salazar qui dirigea le pays de 1932 à 1974. Le châssis n° LSWA222 quitta l'usine de Crewe le 2 janvier 1956 pour être expédiée au Portugal à bord du navire 'Paraguay Star' en route pour Lisbonne où elle arriva à la mi-mars 1956.
Affichant actuellement 87,927 km au compteur, la voiture est décrite comme en bon état général en mécanique comme en carrosserie, avec quatre pneus neufs et un récent entretien (fluides et filtres). Elle est complète avec son manuel d'utilisation, son jeu d'outillage et sa torche électrique. La documentation disponible comprend la facture originale, de nombreuses factures, la carte grise française et le contrôle technique.
Saleroom notices
Please note that we cannot confirm that this car was the property of Oliveira Salazar – the former Portuguese President. The Rolls-Royce copy chassis cards on file indicate that the car was sold new to a Mr. Antonio de Carvahle Silva of Lisbon Portugal. Veuillez noter que nous ne pouvons pas confirmer que cette voiture est la propriété de Oliveira Salazar – l'ancien Président portugais. La copie des cartes de châssis de la Rolls-Royce dans le dossier indique que la voiture avait été vendue neuve à Monsieur Antonio de Carvahle Silva de Lisbonne Portugal